ANTI PACKING LIST FOR THE CAMINO All the stuff I could have done without
Here is my tough list of all the redundant gear I carried in my backpack for the first two caminos
After my first and my second camino I made an effort to have a look at the stuff I brought along that I could easily have done without. There were more things than one should think… Check out my tips if you want to save grams in your backpack.
Doublets = double weight
I often work hard to avoid doublets when packing lightweight: Which items do I carry two of? Which items are basically a solution to the same problem?
I don't take both shorts and a skirt. It is either/or. And I stick to a single pair of trekking pants. If they are wet and it's cold, I wear the long johns from my pajamas with my skirt or shorts.
One bra is enough, I can do without for the few hours it takes for it to dry.
I choose my footwear carefully from home: Either boots or trekking sandals. If the weather gets too hot for boots, I take them off to ventilate my feet as often as possible. If the weather gets too cold for sandals, I wear socks in my sandals.
Doublets in my backpack are cut to a minimum: Two pair of underwear, socks and singlets. One for wearing and one drying.
Bye, bye, best pillow friend…
Do you have a super close relationship to your pillow? So close you're actually thinking of bringing it along? Start by weighing it. Then packing it. Now you have an idea of what you're up against. No matter how nice and loved your pillow is, I'd say a pillow is a luxury item during a camino. Until now I've never slept at a place without a pillow on the camino. Not like at home, though… But sometimes having to do without things you're attached to opens new mental doors!
However I never walk the camino without my homemade pillow case – camino pillow size. Check out the size here if you're keen on sewing your own.
The jacketless pilgrim
People are often surprised to hear I walk the camino without a jacket. Been there, done that. For more than 320 kms I carried my beloved Patagonia shell jacket, but it just didn't work for me. It was simply there like some deadweight in the backpack. It is better for me walking in my zipper wool cardigan. Generally it is not as windy on the camino as it is my homeland (Denmark), but on the very few windy camino days I have my rain poncho as an extra layer if needed. Should I decide to bring a jacket sometime in the future, I'd go for a short lightweight one with zippers underneath the arms for ventilation.
Toiletries take you down
I only bring travel size toiletries. I can always borrow or complement if I actually get blisters or a headache. Once I allowed myself the luxury of an ultra lightweight inflatable foot tub. But I didn't actually use it – a warm shower was more than enough.
Talking about toiletries… Do you need to bring toilet paper? I never did – in my opinion it takes up too much space. However I do bring paper handkerchiefs, in case I have to pee and there is no bar nearby. And remember the ultimate camino style: Leave no trace – always take your garbage with you including paper handkerchiefs.
Trust me: You'll survive the rain!
Rain has always been my biggest fear on the camino. Here is a complete list of the useless and heavy rain stuff I used to carry and now don't:
Rain covers: I bought some disposable rain shoes, but they were impossible to actually use on the trail.
Half a roll of garbage bags – I had heard somewhere that I could put my feet in a garbage bag and then into the shoe. Doesn't work – you just sweat your feet wet anyway…
Rain gaiters – it took too long to get them on to them so they remained in the backpack.
Waterproof tilley hat: Unnecessary because my rain poncho covers my head just fine
Rain jacket and rain cover for my backpack: I skipped both when I got a rain poncho that does the whole job in a jiffy when rain surprises me.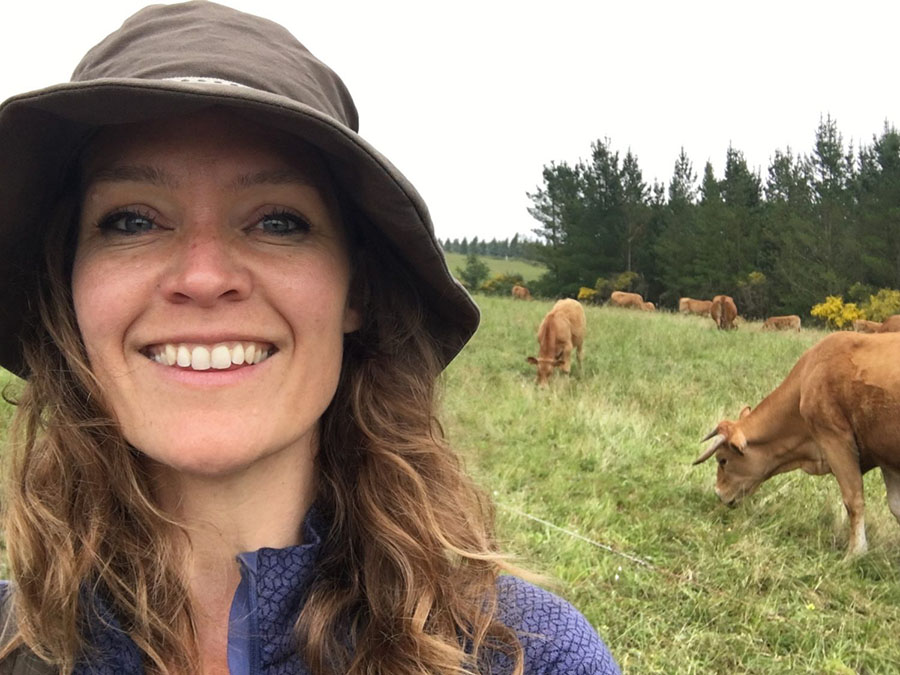 So ein ding…
Technology is it a pitfall in itself when packing. Admitted: A headlight is nice to have in the dark mornings. But when I decided to save the weight, I realized the light from my cell phone was just fine.
Besides the headlamp, technical stuff has been difficult for me to let go of. I am considering not having internet – which for me would mean not bringing my smart phone. Yes, it does give me a sense of security. But I am curious as to how it will be to let go of exactly that – my comfort zone? Maybe a basic 'dumb' phone could do the job? After all, it does allow me to call home if needed…
Really stupid stuff I brought along
Selfie stick – completely unnecessary and inconvenient. You will meet a photographer when you need one. After all: I didn't feel like doing all the creative selfie stick photo ideas I had in my head
Jack splitter: I have never been in a place on the camino where I actually needed my jack splitter. Some places have few power outlets, but as I carry a power bank, I am not in problems having to wait for a power outlet
An extra packing bag: I never used it and it just caused confusion in my backpack.
Stuff I regret I skipped
Once I skipped my blanket and walked the camino bringing only a silk mummy liner for the night. I ended up having to buy a fleece carpet as I was freezing insanely and it turned out there were no carpets in the public albergues in Galicia. Today I don't bring a fleece carpet – I have switched totally to a woolen sleeping bag (yes, I'm – after all – Scandinavian…)
On another camino I decided to skip bringing my day cream and use my foot balm for my face instead. Totally greasy and unpleasant… Some grams are simply not worth skipping!
So what's on my ultimate packing list for the camino?
Cause I didn't ditch all my stuff…
See my ultimate packing list for the camino