PACKING My camino backpack seen in retrospect
Packing for the camino is your first step toward the clarity a pilgrimage offers you: What do you really need? What can you do without?
Especially since you will be walking many kilometers every day as a pilgrim, it's a good idea to take your time considering how much you want to carry along. What helps you? What weighs you down?
Your backpack reflects your inner life
The camino invites us, in a healthy way, to say goodbye, deal with and clean up our lives. To distinguish between what is truly useful and necessary and what is 'nice to have' for security reasons. For me a heavy camino backpack is often more of a protection mechanism. The same kind of mechanism that makes me eat without tasting and thus overeating when my daily life is stressful.
Before I realized these packing patterns I carried a lot of unnecessary and useless things.
Check out my anti packing list for the camino
Often during my first camino I rushed out of the dormitory in the morning with all my stuff in a mess and thrown in my backpack. The result was usually unfortunate: I would find myself repacking on some dark dirt road after hours of having a camera or something else jammed against my lower back. Much more of a hassle than packing properly before leaving the albergue! Lesson learnt? It is totally worthwhile to make an effort packing and leaving calmly every day. Be it your camino backpack or your work bag.
Here is my ultimate, downsized, minimalistic lightweight camino packing list!
What I'm wearing:
Woolen mid layer cardigan
Merino wool trekking socks – camino design
A pair of underwear
Woolen tank top
Woolen sports bra
Long trekking pants
Trekking boots or sandals
What I carry in my backpack:
Trekking poles
Extra rubber tip for my poles
Merino wool mummy liner
Turkish bath towel/scarf
Rain poncho with space for the backpack
Extra woolen tank top
Trekking skirt
An extra pair of woolen trekking socks
An extra pair of underwear
Woolen mid layer as pajamas
Camino Buff neckwarmer in merino wool
Neckwarmer in microfiber (tube scarf)
Inddor footwear: Lightweight Birkenstock Arizona (PU)
Merino liner gloves for smart phone
Sun visor
Toothbrush, mini toothpaste and dental floss
Mini woolen soap for clothes wash
Mini shampoo and sun protection cream
Clippers 3-in-1
Tweezers from a swiss knife
Deodorant
Leukoplast tape for blisters
Foot balm
Cell phone, power bank and charger
Power bank end cable
Skin care
Mascara
Lip balm
Paper and pen for diary
Passport and credential
Credit card and an extra one
My packing list for the camino works for temperatures ranging from 7-37 degrees Celcius (45-97 Fahrenheit) and is suitable during the months of April, May, June, July, August, September and October in Spain.
Ordnung muß sein in my backpack
Packing bags give me a good overview of my things and make it easier to find what I'm looking for without having to empty the whole backpack. Everything in my camino backpack is organized in packing bags in different colors to help make it easier to tell them apart:
Clothes in the red one
Woolen sleeping bag and woolen pajamas in the one with the pattern
Electronics in the blue
Toilet bag in the grass green
Indoor shoes in the grey
Couldn't help it… styled my backpacks with camino shell patches!
What is a reasonable weight for a camino backpack?
A rule of thumb is that your camino backpack should not exceed 10 % of your ideal body weight including food and water. For me, this means somewhere between 7,5 and 8 kilos.
What about my toilet bag if I bring along my camino backpack as hand luggage?
In order to keep the weight of my backpack at a minimum, I pack my toiletries in miniature sizes and supplement along the way if I need to. As long as each entity contains less than 100 ml I can check my backpack in as hand luggage. I'm not so strict about weight any more. I have been so focused on lightweight that I used my foot balm on my face. Now I allow myself the luxury of bringing along the skin products I use at home.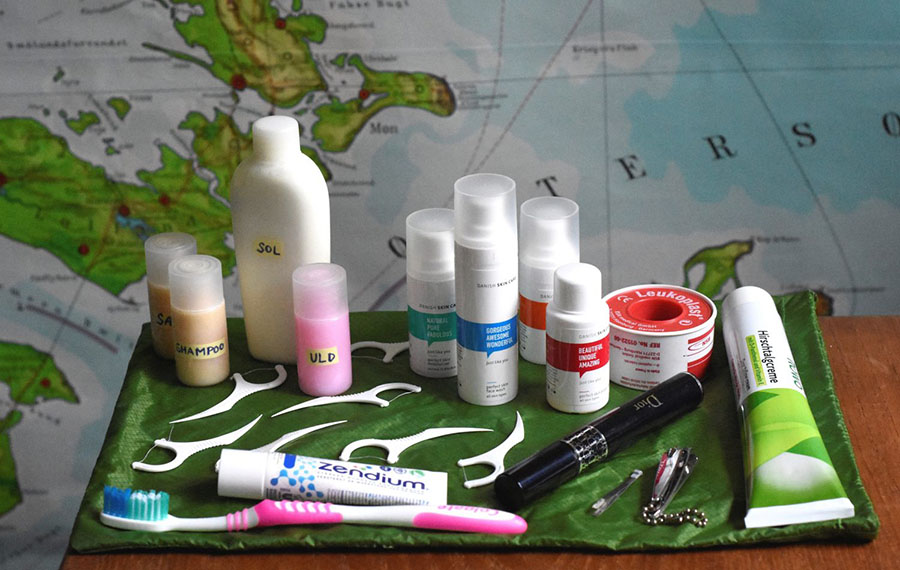 Is it actually something else than the backpack that weighs you down?
Many pilgrims are obsessed with traveling lightweight. But honestly, take a look at your body weight too. The 140 grams in the backpack may not matter if you are 14 kilos overweight. I'm speaking from bitter experience when I mention the 14 kilos.