GUIDE Camino San Salvador – the tiny mountain camino
We simply can't recommend the tiny mountain camino Camino San Salvador warmly enough! So peaceful and with beautiful nature
This guide contains the answers to the questions we had before embarking on Camino San Salvador in late October 2021.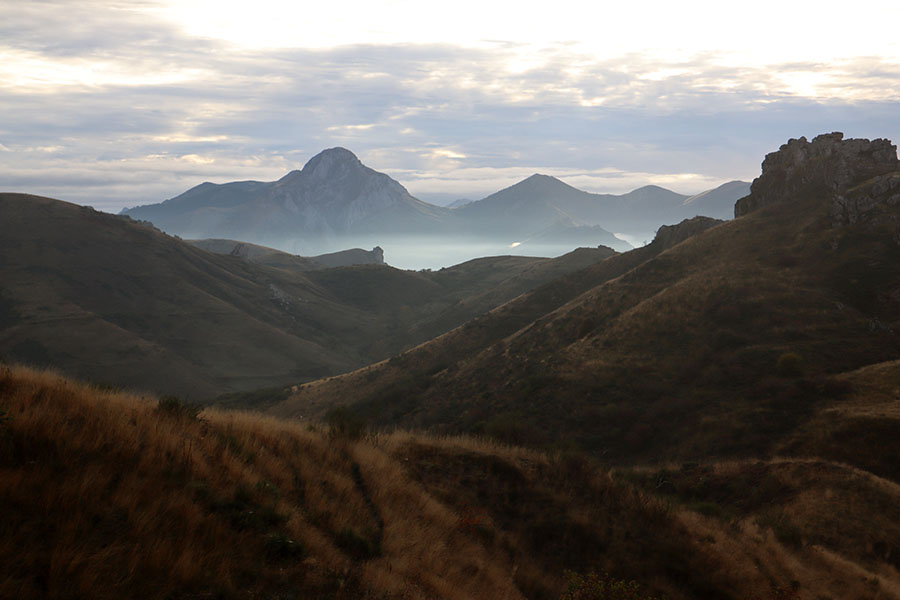 What is the total distance of Camino San Salvador and where does the camino start and end?
Camino San Salvador starts in León and stretches 120 hilly kilometers north to Catedral de Oviedo in northern Spain.
Check out our tips for stages on Camino San Salvador
Where is the starting point of Camino San Salvador?
Camino San Salvador starts at the cathedral in León and follows Camino Francés for the first kilometer. At Convento de San Marcos the routes split. There seems to be some disagreement about the signposting here – you should head for Oviedo if you intend to walk Camino San Salvador:
Leaving León Camino San Salvador follows an asphalt road – but just to the left of this road there is a nice track along the river. This alternative route is well signposted, but pay attention at the end where is gets rather steep – be sure to cross back to the official track before that. To find this alternative by the river, simply follow the signs 'Por el rio' instead of 'Por asfalto':
How is Camino San Salvador signposted?
Like the other parts of the route Camino San Salvador is signposted with scallop shells and yellow arrows. The signposting is fabulous throughout the entire route – you have to make an effort to get lost!
Photo: Thanks to Inge Larsen
The signposting confused us at a single occasion: Shortly after Arbas de Pajares/Puerto de Pajares the yellow arrows indicate a choice of route, but it is unclear what you choose between: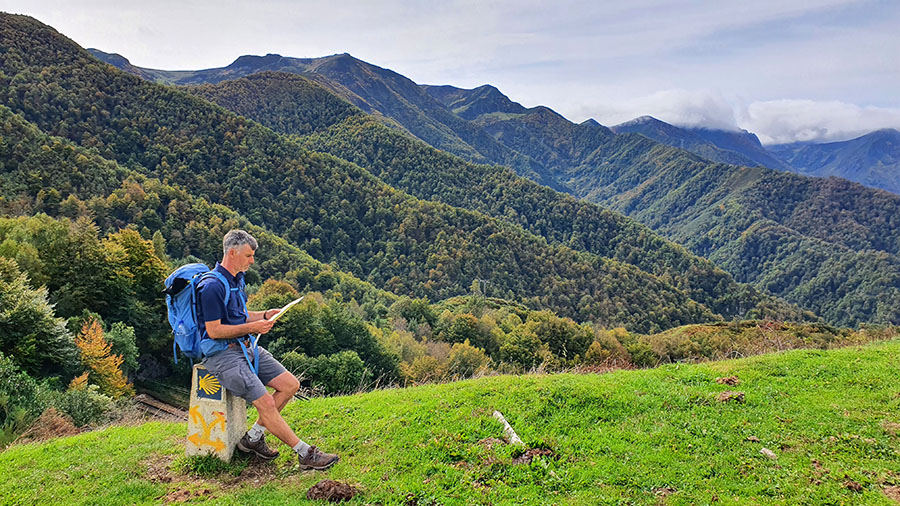 The route to the right is a steep descent to the village of Pajares. Leaving Pajares again, you will reach the hamlet of San Miguel.
The route to the left goes directly to the hamlet of San Miguel surpassing Pajares. If you take the left route, there is an option to cross over to Pajares later but some pilgrims miss that turn.
How is the path and what about footwear?
Camino San Salvador has great paths on most days – it has an abundance of dirt tracks and single tracks compared to other caminos. Trekking boots can be a good idea on this route if you are used to walking in boots. Otherwise, trekking shoes, trail runners or trekking sandals will work as well:
There is one stage though that is entirely asphalt – the 21 kms between Campomanes and Mieres del Camino. That stretch is the downside of this otherwise magic camino: The camino follows a valley alongside a road, a highway and a trail line! All in all that stage is so noisy and boring you might consider listening to music or a book (or even taking the train for half an hour – price 1 USD).
What time of the year is best?
We walked this camino mid-October in lovely hiking weather and shorts. There are some peaks where it gets colder – the highest point on the camino is 1,572 meters above sea level. The route passes the ski sports destination Puerto de Pajares, so beware the risk of snow during the winter. We don't recommend this camino for winter as there are so many steep paths that'll be slippery or even impossible to trek in snow. The locals told us the snow some years arrives as soon as late October and stays until late March.
How is the new alternative route after Llanos de Somerón?
Leaving Llanos de Somerón a new alternative route opened in october 2021. The original route follows the asphalt road 5,4 kms down to the village Fresno and is described as easy – 'dificultad bajo' on the signs. The new route is a 5,7 kms forest track described as challenging – 'dificultad alta' on the signs.
Being curious and adventurous, we chose the challenging new route. The first two kms are easy peasy, put after that the path becomes steep – at one point so steep, there is a chain rope to help you up:
The path passes the rock at Munistiriu, and at this point, there is a little risk of vertigo. For us mostly due to not knowing if it would get worse. This is the top point of the route, and from there it becomes easier. Technically, it is a challenging route as the path is lower in one side than in the other. After rain, we would say this route is an irresponsible choice as the forest tracks are probably going to be muddy and slippery. Overall, the new route spares you five kms of asphalt and offers some adventure. We would sure do it again if the weather were ok.
Here are some facts about the choice of route at Llanos de Somerón:
Is there a credential for this route?
Camino San Salvador has its own credential with place for stamps and basic information on services and height curves. The information in the credential is not updated nor accurate though – use our overview of the services to get a more complete overview. The credential for Camino San Salvador is available in León at Albergue de Peregrinos Las Carbajalas i León – open from 11.00 AM.
You can also walk this camino with a regular credential. The route ends in the cathedral in Oviedo where you can receive La Salvadorana as a proof of your pilgrimage. La Salvadorana is this route's equivalent to 'La compostela', which pilgrims receive upon arrival at Santiago de Compostela.
How to combine with Camino San Salvador with other caminos
Camino San Salvador starts at the cathedral in León – which means you can actually continue along Camino San Salvador after the first 461 kms on Camino Francés. You can also prolong Camino San Salvador in the other end: The cathedral of Oviedo is the goal of Camino San Salvador – and at the same time the starting point of another hilly and scenic camino: Camino Primitivo (321 kms), which ends in Santiago de Compostela.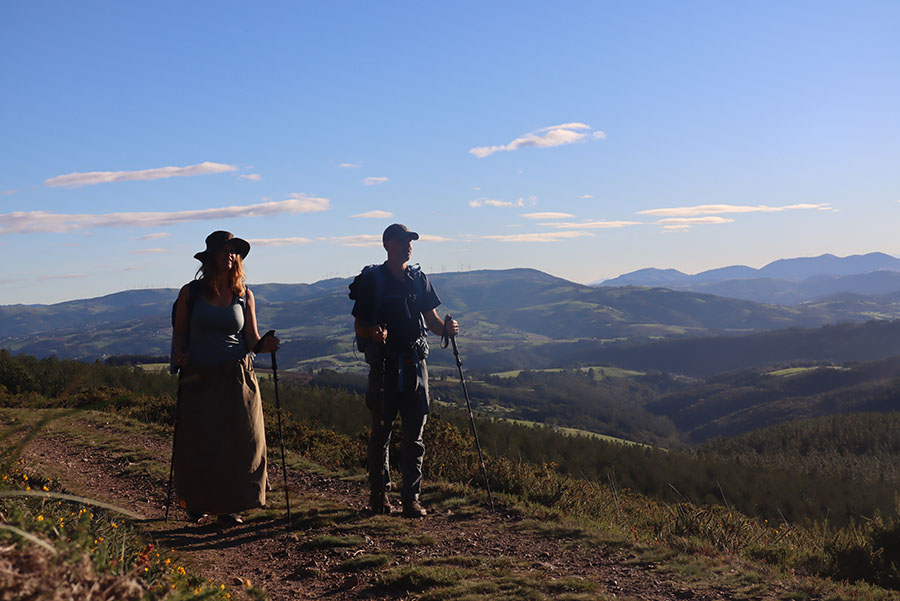 Do I need trekking poles?
Our honest opinion: It's on the verge of self-torture embarking Camino San Salvador without trekking poles. Off course you can make it without, but on the numerous ascents and descents your body's gonna thank you for bringing trekking poles. Walking with trekking poles allows you to take advantage of the strength in your upper body and you saves your legs a lot of energy and load.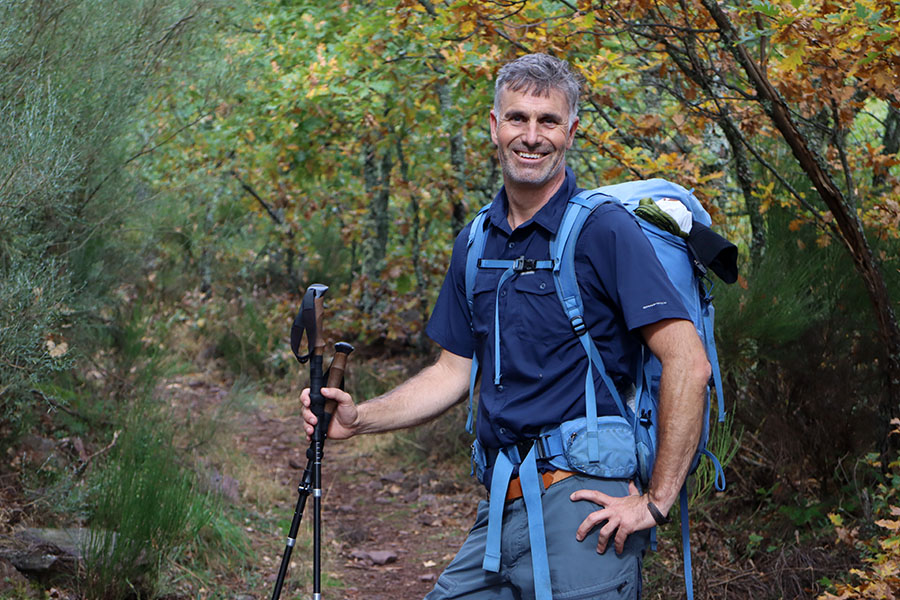 Tip: Take off the rubber tips whenever you are on paths without asphalt – which means most of the time on this camino. You get a good grip that way. Put on the rubber tips again when you are back on asphalt.
How hilly is Camino San Salvador?
Quite hilly! You walk up and down the Leonese Mountains! We chose to walk shorter stages on the hilliest stages and we don't regret a thing.
A mountain camino?!? What's the risk of vertigo?
In our family Torben is the test person when it comes to vertigo. His opinion: Generally, no vertigo issues on Camino San Salvador… There is only this place between Buiza and Poladura de Tercia that made him think a little – but apart from that – no big risk of vertigo.
Pay attention the new route at Llanos de Somerón described above.
Camino San Salvador map
We found this map of Camino San Salvador on TrailDino – it is not perfect, but definitely useful.
It's easy to make the map work on your device – allowing you to see your position:
Download the free app AllTrails here for apple or here for android and create your profile
Click this link to the map of Camino San Salvador – you are the blue dot on the map.
Are there plenty of groceries on Camino San Salvador?
Actually no. For instance there is no grocery nor supermarket on the 50 km stretch from the village Pola de Gordón to the town Campomanes – which takes two days to walk for most pilgrims. This doesn't mean you have to go to bed hungry, though… Go eat and find provisions at the local bars instead. Be sure to carry plenty of water – especially during the summer. There are no vending machines along the route.
We walked through Pola de Gordón on a Sunday and found the local supermarket closed. Such a pity especially as it was the last supermarket for 50 kms for two days:
We went to buy provisions in the bar instead – good choice.
If you are planning to stay for the night in the village of Pajares, be sure to order food in the bar one day in advance by calling +34 636 93 30 69. You have to order any meal you want there – dinner, breakfast and lunch: Comer = eating lunch, cenar = dining, desayunar = eating breakfast. If you don't speak Spanish, try to find someone who can help you call the bar.
Sunset in Pajares – remember to order food one day in advance
Distances and services on Camino San Salvador
This should give you an idea about the distances and services available on Camino San Salvador: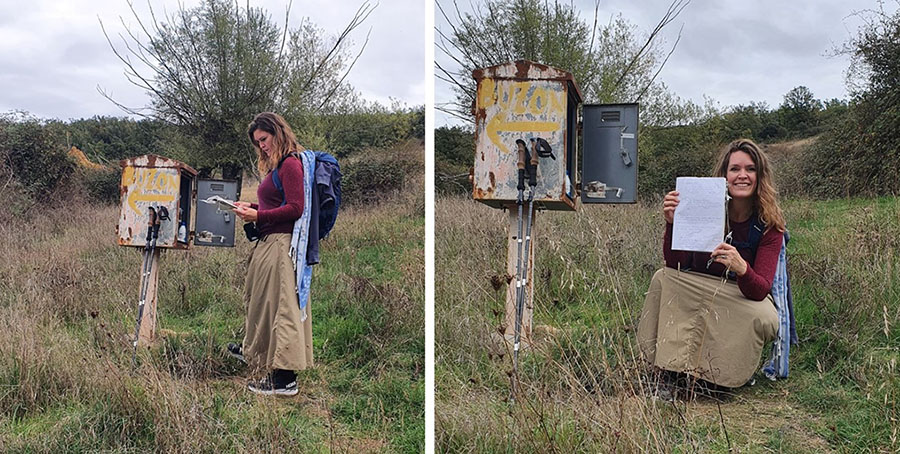 In this little book pilgrims write greeting to each other
Are there any guidebooks or apps for Camino San Salvador?
The most well known guide for Camino San Salvador is Ender's guide which has detailed information about the whole camino. And then there is Juan Filipóns guide book in Spanish.
We bought the app Wisely for Camino San Salvador which has an interactive map that is very helpful to check your position.
What is the story of this camino?
Camino San Salvador ends at the cathedral in Oviedo, which is home to a very important catholic relic: The shroud of Oviedo is believed to be the cloth that was wrapped around the head of Jesus after his death. It is kept in a shrine that is only opened three times a year: During Easter and twice during the annual festival of Oviedo.
Many of the relics of the Catholic Church where brought to safety here in the Christian city of Oviedo after the moors invaded the Iberian peninsula in 711. Oviedo is one of very few larger cities in Spain that has never been Muslim. Due to the relics of Oviedo Camino San Salvador was very popular amongst pilgrims during the 12th and the 13th century. In 2008, the camino was sign posted and pilgrim hostels – albergues – were established along the route.
Don't forget to visit Iglesia de Santa Cristina de Lena
Camino San Salvador passes the remarkable tiny church Santa Cristina de Lena 3 kms after Campomanes is. Santa Cristina de Lena is UNESCO world heritage, built around the year 850 and one of the most interesting examples of pre-Romanesque Asturian art. If you stay for the night at the awesome albergue in Bendueños, the distance from there to Santa Cristina de Lena is 6,4 kms.
Iglesia de Santa Cristina de Lena is worth a visit! Photo: Thanks to Bjarne Fjelksted
The opening hours aren't that convenient and the church is closed on Mondays:
Winter: 11-13 and 16-18
Summer: 11 – 13 and 16.30 -18.30
Check out whether the opening hours have been updated here
Maria Ines looks after the small church. If you arrive outside opening hours you can be lucky she'll show you the church anyway if you call 0034 985 490 525 or 0034 609 942 153.
How to get to the starting point of the camino and back home again?
We took a direct flight into Madrid and embarked the AVE high-speed train that arrives in central León in less than two hours. Price: USD per person. Easy peasy. We had 1 hour and 45 minutes to get from Barajas airport with metro line 8 and 10 to the central station Madrid Chamartín Station. We didn't buy our AVE train tickets until we were in the metro cause we didn't want loose hour money if our flight was delayed and we were late for the AVE. AVE train tickets are easy to buy online – make sure to download the app Omio from home:
Cheerful Spaniards in the AVE – classic Spain!
If you are returning home from Oviedo, the easiest way is to catch a domestic flight to Madrid from Asturias Airport (OVD). We paid 23 USD per person for a flight to Madrid. A more climate friendly choice is to take the train five hours to Madrid.
I arrive late in León – what to do?
We arrived at 22:30 in León – but in Spain that is actually not that late. In the very heart of León there is an awesome homey albergue called Covent Garden Hostel (commercial link) run by Juán. We made an appointment with him on beforehand and he came to let us in. Don't worry about dining either: – 23 PM is a great time for tapas in León!