STAGES Camino Portugués: How to combine the coastal, central and Variante Espiritual route
We got some really long days when walking Camino Portugués from Porto to Santiago de Compostela. So here we present our suggestion for stages – clever from experience…
Our suggestion for nice stages combines the three main routes of Camino Portugués: Coastal (Costa), central and Variante Espiritual.
1. Porto via Matosinhos to Vila Cha by the coastal route 22 kms
2. Vila Cha to Pedra Furada by the Costa route and a connection route 29 kms
3. Pedra Furada via Barcelos to Lugar do Corgo by the central route 32 kms
4. Lugar do Corgo via Ponte de Lima to Rubiaës by the central route 32 kms
5. Rubiaës to Tui by the central route 20 kms
6. Tui to Mos by the central route 18 kms
7. Mos to Pontevedra by the central route 30 kms
8. Pontevedra to Armenteira by Variante Espiritual 20 kms
9. Armenteira to Vilanova de Arousa by Variante Espiritual 24 kms
10. Vilanova de Arousa to Padrón by Variante Espiritual 30 kms
11. Padrón to Santiago by the central route 25 kms
Facts about this camino
Distance in total: 282 kms (255 kms, if you take the boat on Variante Espiritual)
Stages: 11
Average kms pr. day: 25,6 kms
Looking for shorter stages for Portugés? Check these
Porto via Matosinhos to Vila Cha
1st stage 22 kms by the coastal route
Our route today is a nice detour out of Porto first described by John Brierley in his guide.
We walked the route very easily with this simple description: When standing with the Sé cathedral at your back: Head to the river Douro and follow the riverbank to the right towards north for ten kms out of Porto to Matosinhos. After the tourist agency on the harbor, walk a little further and turn left over the bridge. Continue a couple of hundred meters until you reach the Atlantic Ocean. Continue straight ahead until Vila Cha. If you want a shorter stage in order to have more time in Porto, you can take the charming, old wooden train for the first kms along the river out of Porto to Matosinhos.

Vila Cha to Pedra Furada
2nd stage 29 kms by the coastal route and a connection route
We walked the coastal route and crossed over to the central route in the small town Vila do Conde where there is a signposted connection route. Make a reservation at Antonio's place on +351 252 951 144 in the tiny hamlet of Pedra Furada. There are only six beds – two in double room and four in dormitorio. Enjoy his rural cooking. The prices are reasonable even though Antonio's dishes are mentioned in the Guide Michelin.
Here is the map of the connection route between the coastal route and the central route by road 206. You can see the map if you find a German pilgrim and ask for the yellow guide book by Raimund Joos.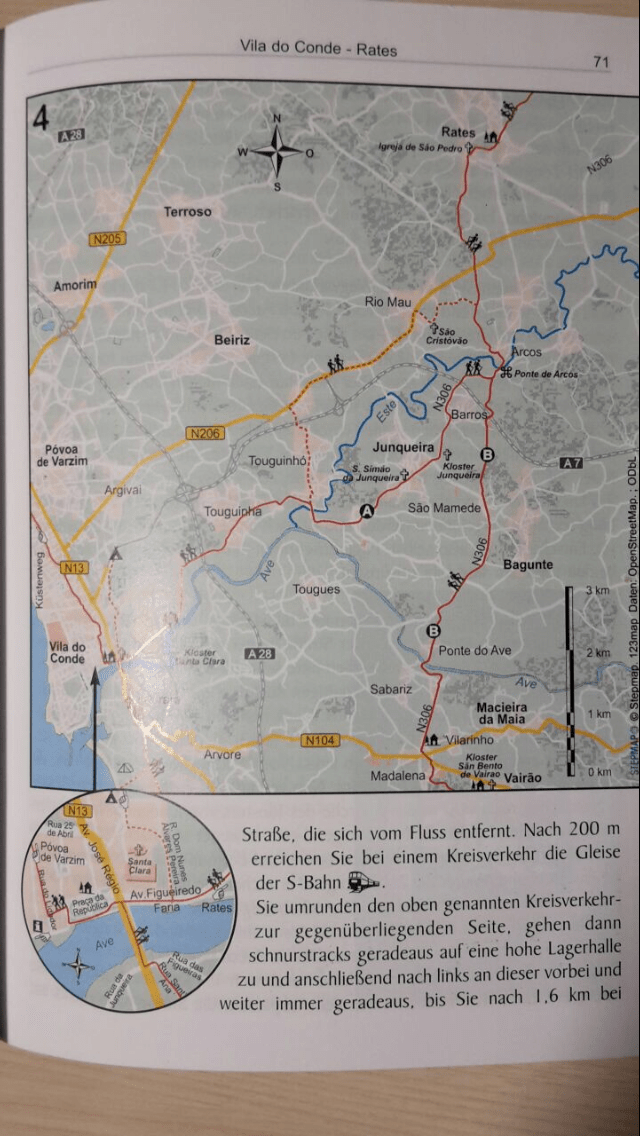 You can also choose to cross over to the central route later – in Caminha, from where you walk two days along a river. The path is rather new, but you have the river on your left hand all the way until you reach the town of Tui. A nice place to stay half way along this connection route is in the charming town Vila Nova de Cerveira. The hosts in Casa Gwendoline is a very sympathic couple.

Pedra Furada via Barcelos to Lugar do Corgo
3rd stage 32 kms by the central route
If possible: Stop time when you reach Casa Fernanda and enjoy every second. The magic moment and top experience of the whole Camino Portugues. Call ahead and tell Fernanda you're coming. Her number is +351 914 589 521. If you prefer a shorter stage, sleep in Barcelos midway – super beautiful, classic Portuguese city with facades decorated with the traditional patterned tiles. There is an albergue in Barcelos and private rooms as well.
Lugar de Corgo via Ponte de Lima to Rubiaës
4th stage 32 kms by the central route
Today you walk through lively and charming Ponte de Lima. On Sundays, there is a market the locals attend and dress up for. Four kms after Ponte de Lima there is a cafe by a touristic put and take. The coffee is awful and the place not really worth a stop unless you really need it.
Seven kms before Rubiäes there is a much talked about climb, and once you're up, you find drinking water. Very scenic stage. We warmly recommend the albergue Pilgrim's Nest.
Super cozy hippie style interior, a lovely small garden, where it is easy to wash and dry clothes and a courtyard with sunset. If you want a shorter stage today, stay in Ponte de Lima midway – there is an albergue.
Rubiaës to Tui
5th stage 20 kms by the central route
Enjoy Valença today – finding the tiny historic centre inside the fortress walls surrounding Valença is like finding a shiny pearl in a scallop shell. 'Fortaleza' in Portuguese means fortress.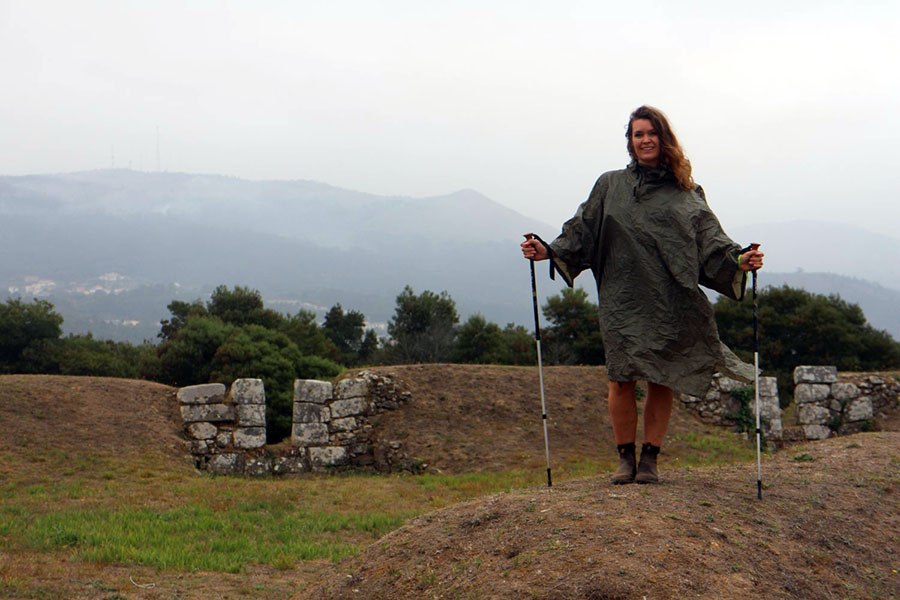 It is a very special experience to cross the border between Portugal and Spain along the long bridge. Albergue Santo Domingo in Tui is very well functioning and has different cozy rooms to eat and relax in for a tired pilgrim.
Tui to Mos
6. stage 18 kms by the central route
When we saw Mos, we regret not having chosen to stay here. In stead we walked on to Redondela which is neither interesting nor charming. Next time we prefer peace and quiet in tiny Mos' surrounded by wines and stone walls.
Mos to Pontevedra
7. stage 30 kms by the central route
Pontevedra is a nice town and a perfect stop, if you're planning on walking the quiet Variante Espiritual route tomorrow. Variante Espiritual 36 kms extra compared to if you stay on the central route. The 35 kms are more than worth while!
Pontevedra to Armenteira
8. stage 20 kms by Variante Espiritual
A couple of kms after Pontevedra the two routes split: Central heads to the right and Variante Espiritual to the left. If you choose Variante Espiritual, you can look forward to soft single tracks through the forest. A very peace and quiet route compared to the more trafficked central route.
Variante Espiritual is about 36 kms longer than if you continue on the central route: A scenic detour. We walked it by following this very simple and unprecise map – plus off course the yellow arrows.
You'll pass by Poio before you reach the romantic coast hamlet Combarro. Be sure to take a stroll around the narrow streets and stock up for the evening in the supermarket, this is last chance on today's stage.
Inform your legs about quite a climb to Armenteira. Don't say we didn't warn you… The underlay is plain and good asphalt all the way up, and the views are magnific.
The municipal albergue in Armenteira has a tiny amount of supplies. Tomorrow you don't find any supplies until midway either. We cheerfully called this route 'The route of all the closed bars'. We were there I October – maybe you'll find an open bar if you walk in the summer.

Armenteira to Vilanova de Arousa
9. stage 24 kms by Variante Espiritual
The first three hours walk are incredibly pretty. Beware you don't have arrows nor scallops shells here. In stead you follow the signposting with a yellow and a white parallel stripe along the 'Ruta de la Pedra e del Agua'. When you see crossed lines in stead of parallel lines, it means don't go there – it's off route. You walk along the river and cross it several times.

Vilanova de Arousa via Pontecesures to Padrón
10. stage 28 kms by boat and 2 kms walking to Padrón
Very interesting boat trip with the little rubber boat 'Barca del Peregrino' 28 kms along the world's first maritime Via Crucis. The boat is loaded with good stories: According to legend the route you follow is the route that was used to transport Saint Jacob's bones to Santiago. Seventeen crosses along the water mark the history of the route. The boat trip ends in Pontecesures from where there are two kms walking to Padrón.
Find important information on the boat trip in our guide to Camino Portugues
Padrón's a charming town. Consider walking an extra mile extra to stay at the monastery in Herbón, a small distance off camino. It's supposedly extremely interesting. Alternatively the hotel Chef Rivera in Padrón is peaceful, and there's a laundry right across the street. If you prefer albergue, Albergue Rossol is placed perfect in a little square by the church. If you arrive by boat today, you have walked almost nothing, so take your time enjoying Padrón and taste an important part of the town's story: The small, delicate green peppers called 'pimientos de Padrón'. Grilled in olive oil, they're a classic, local tapas dish you'll find in almost every bar around Padrón and a lot of Galicia. The monks in Herbón are said to be the 'fathers' of this treat. It's possible to walk the stage as well – 28 signposted kms. We want to try that next time around.

Padrón to Santiago
11. stage 25 kms by the central route
The last part to the cathedral arriving from Camino Portugues is actually quite nice – you have neither heavy traffic nor industrial areas. You arrive through Santiago's residential areas, pass by the university and walk along Park Alameda.
We suggest you book in Santiago. Check out our tips for favorite places to stay in Santiago the last night
Check out our guide to Camino Portugues from Porto to Santiago
Short stages for Camino Portugués
If you prefer walking fewer kilometers each day, Camino Portugués is quite easy to split up into shorter stages. Here is our suggestion:
1. Porto – Matosinhos 10 kms
2. Matosinhos – Vila Cha 12 kms
3. Vila Cha – Sao Pedro do Rates 21 kms
4. Sao Pedro do Rates – Barcelos 16,8 kms
5. Barcelos – Lugar do Corgo 18,7 kms
6. Lugar do Corgo – Ponte de Lima 14 kms
7. Ponte de Lima – Rubiaës 18,3 kms
8. Rubiaës – Valença 16,4 kms
9. Valença – O Porriño 18,7 kms
10. O Porriño – Redondela 15,1 kms
11. Redondela – Casa a Grade 17,2 kms
12. Casa a Grade – Combarro 13 kms
13. Combarro – Armenteira 10 kms
14. Armenteira – Ribadumia 12 kms
15. Ribadumia – Vilanova de Arousa 12 kms
16. Vilanova de Arousa – Padrón 2 kms
17. Padrón – O Faramello 10,2 kms
18. O Faramello – Santiago de Compostela 14,3 kms