GUIDE Is it a good idea to bring a teenager on the camino?
YES! From the bottom of my heart, yes – as long as your teenager wants to and it is not your dream you are trying to fulfill
My first camino was with my teenage daughter Tille, 15 at the time. We walked the Camino Inglés, a short route and nice beginner's camino. It was a trip that ended up bringing us closer together and making our relationship stronger. We found a depth and unity between us that has changed our relationship forever.
Some advice when bringing your teenager along for the camino
Be honest and remember to talk about what expectations you both have
There will be strangers, sounds and smells in the sleeping area for example that may drive your teenager nuts.
We are each responsible for our own mood.
It WILL be physically challenging.
Sometimes we won't eat when we are hungry but will have to wait.
Begin early if you want to trek with your teenager
I think Tille's childhood has, in many ways, made it easier for her to see the idea behind walking a camino:
We never had strollers for our children. When they grew out of their baby carriage, they walked on their own and we always spoke of walking as a ticket to freedom and a good thing to do.
When life was difficult, walks were our medicine. Our children have been raised with walking being synonymous with freedom and inner peace.
Basically, we walk! Any distance that is walking distance in our daily lives we walk. For example we have 20 minutes to our nearest food store. 9 out of 10 times we walk there. We also have a tradition we call our "Evening Square", which means to go for a walk. The idea of walking being a means of transportation and a source of bonding has probably encouraged Tille to walk the camino with me.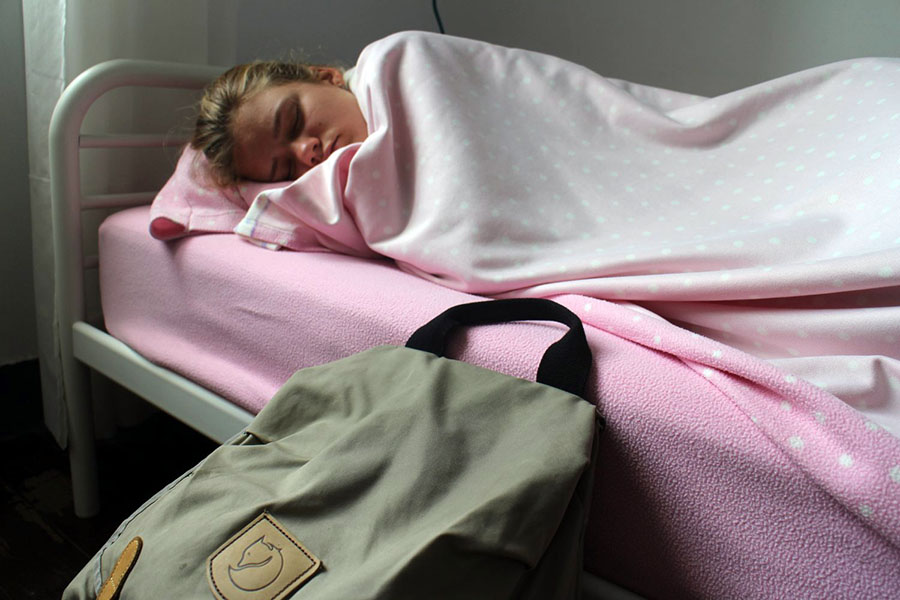 And off you go…
Had I only known what a mother-daughter camino would do to our relationship, I wouldn't have hesitated one minute. All I can do now, is look forward to walking with the rest of our children. So if you are dreaming of walking a camino with your teenager? Just do it – as long as your teenager wants to.
Read more about our trip to Camino Sanabrés, which my husband and I walked with our respective daughters of 19 and 20.
Arriving at the Cathedral at Santiago de Compostela – high on accomplishing our first camino, the Camino Inglés.