GUIDE Camino de Santiago on Gran Canaria
Did you know there is a Camino de Santiago on Gran Canaria? It is a panoramic, peaceful 77 kilometers camino – good shape required
Do you long for a sunny camino? Check out Camino de Santiago on the canary island Gran Canaria. We walked the canarian camino during Christmas and totally love the landscapes, the views and the camino vibes. Definitely a camino we will walk again as soon as possible.
Where does the camino on Gran Canaria start?
The camino starts at the lighthouse in Maspalomas on the southern coast of the island – Faro de Masplomas:
Faro de Maspalomas – unfortunately we found no camino shell at the starting point.
What are the highlights of the route?
Incredibly beautiful and varying canarian landscapes along the whole camino. From the desert like south to the green north.
Breathtaking views and small locals hamlets and bars. Sometimes you cross the tracks of tourists – at the camel park in Arteara, in the picturesque village Fataga or at Roque Nublo – but it is only for short glimpses.
The main part of the day you are alone in Gran Canaria's mesmerizing wild nature.
Is camino de Santiago Gran Canaria signposted?
Sure it is – with a few exceptions. You simply follow the classic, yellow arrows, wooden path signs and classic camino milestones.
Signposting lacks in three places:
The first four kilometers out of Maspalomas are poorly marked. But it is easy peasy – simply follow thre dried out river bed.
At Garañón there is a route split: The classic route (65 K total) to the right goes directly to the village Cruz de Tejeda. Variante Tejeda to the left is a detour of 11 K via the giant cliff Roque Nublo through the village Tejeda to Cruz de Tejeda (76 K total). This variation is not marked with yellow arrows.
The last three kilometers into Gáldar are not signposted either.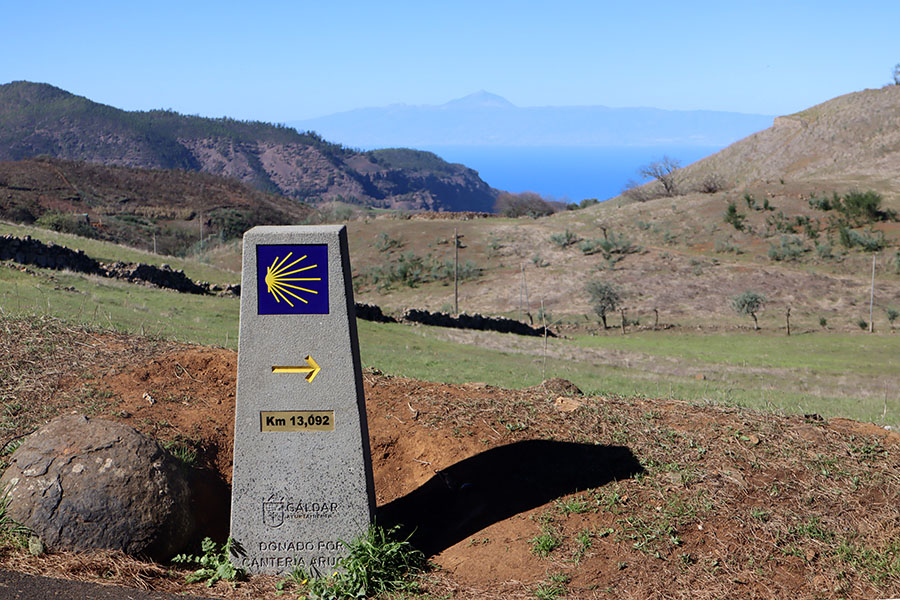 Map of Camino de Santiago Gran Canaria
We were happy to have the map on our mobile device enabling us to see our position on the route – especially on 'Variante Tejeda' that is not signposted. This maps shows the camino including the 11 kilometers detour 'Variante Tejeda' – which we highly recommend doing.
How to make the map work on your mobile device:
Download the free app AllTrails for apple or for android and create a profile
Click this link to Camino de Santiago Gran Canaria – you are the blue dot on the map.
We found the map on Senderismo Gran Canaria – there are more versions on that website than the one we are sharing here.
How long is the Camino de Santiago de Gran Canaria and how many stages?
Camino de Santiago de Gran Canaria is 65 kilometers in total – or 76 kilometers if you include the Variante Tejeda. The route crosses Gran Canaria from Maspalomas in the south to Gáldar in the north. We walked it in four stages.
Check out our recommendations for stages and accommodation here
Is there an app for Camino de Santiago de Gran Canaria?
Unfortunately not. You can easily find a GPS map like ours. And this overview of services might be helpful as well in your planning:
How challenging is this camino?
Physically the Camino de Santiago de Gran Canaria is quite challenging – considerably more than the mainland camino. There are challenging descents and ascents every day – several of the on comparison with the napoleon route on the French route. Be prepared to walk shorter stages than you would on a classic mainland camino. Check out our suggestion for stages here.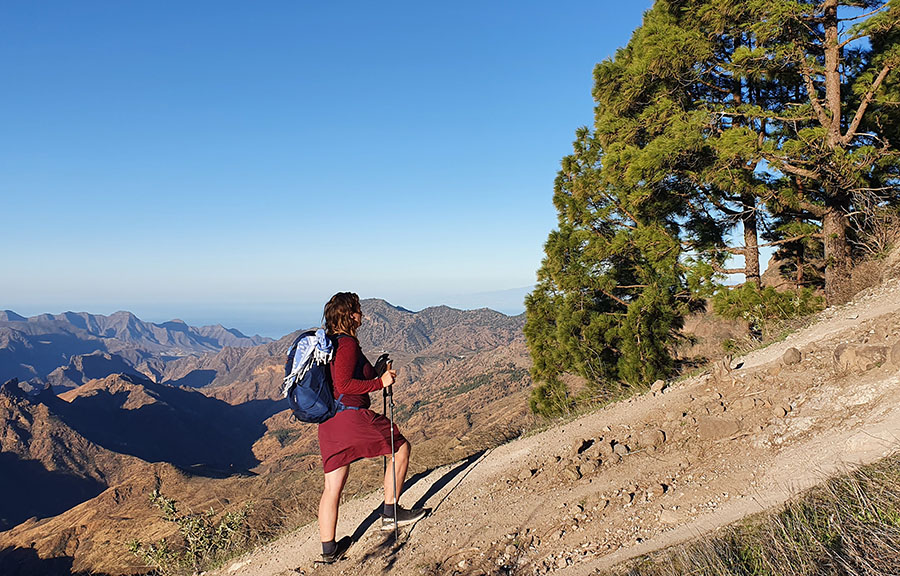 How is the path?
This camino mainly follows rock paths, dirt tracks and gravel roads through open land and forest. Fortunately there is only about 12 % asphalt, all on the last stage towards Gáldar.
Shoes or boots?
If you are used to hiking in boots, you'll probably be happy to wear them on the rocky paths of this camino. The heat's a bit of an issue, though, of you opt for boots.
We hiked in cool mesh hiking shoes (Meindl Balancing) and Hoka Clifton runnings shoes. The Hokas Clifton soles are not that durable which means they wear out earlier than they would otherwise.
How to avoid blisters on the camino
No matter what footwear you choose: Take a break every two hours and take it off – this lowers the temperature of your feet several degrees. Air is the universal trick to fight blisters!
Is there a credential for the camino on Gran Canaria?
Even though it is a short camino there is indeed a pilgrim pass, and it is easy to get stamps at the local bars, where you sleep and in the churches.
There is a nice official credential available here:
Las Palmas Asociación Amigos Camino de Santiago de Las Palmas, Casa de Galicia, C/ Salvador Cuyás 8, Thursdays 19-20.
Telephone: 0034 661 179 464
Mail: caminodesantiagolp@gmail.com
Playa del Inglés Información turística Anexo II
Monday to Friday 9-16
Telephone: 0034 928 76 84 09
Mail: infoanexo@maspalomas.com
San Agustín Info El Portón
Monday to Friday 9-16
Telephone: 0034 928 76 92 62
Mail: infoporton@maspalomas.com
Playa del Inglés Info Las Dunas
Monday to Friday 9-16
Telephone: 0034 928 76 52 42
Mail: infodunas@maspalomas.com
Check out the opening hours! If you are starting during a weekend the offices are not open. It might be a better idea to write an email earlier on and ask whether it is possible to receive the credential by post.
There is also a home print version available here
The homeprint version is not perfect, but it works…
Do you get the compostela after finishing this camino?
La compostela is a proof that you have completed Camino de Santiago ending in Santiago de Compostela. It is exclusively for the mainland caminos.
If you complete the Camino de Santiago de Gran Canaria you can obtain this official certificate in the church of Gáldar (price 1 euro):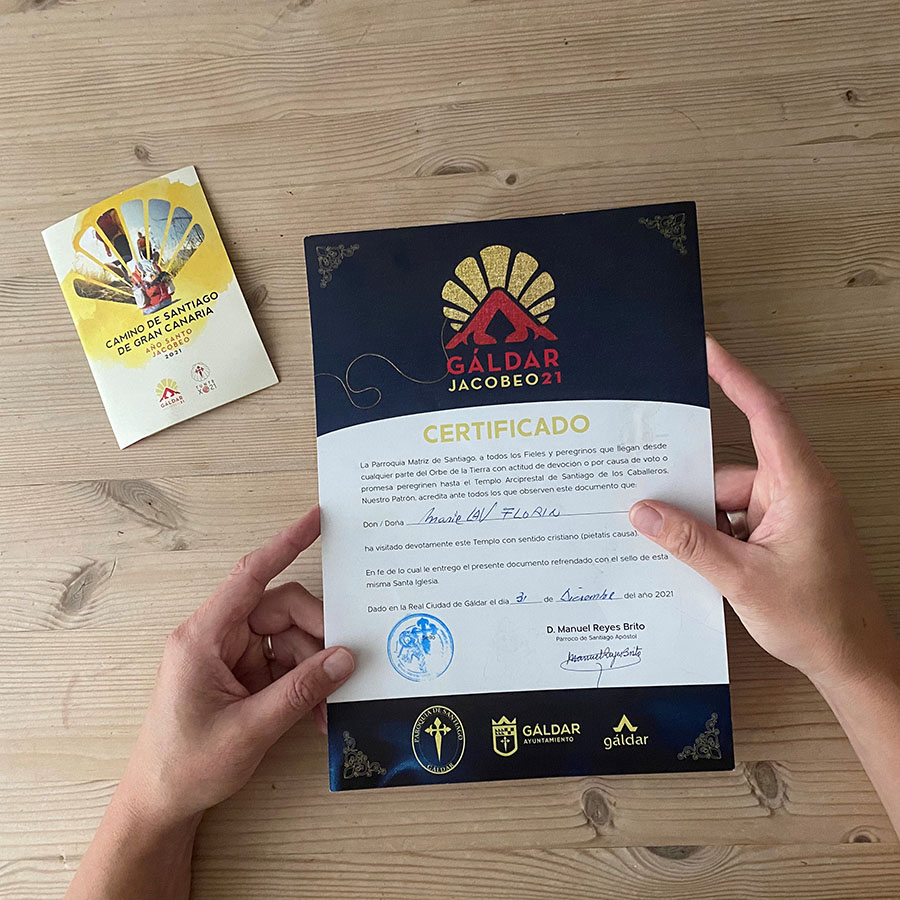 How to get from the airport to the start of the camino?
It takes about 45 minutes from the airport (LPA) with bus number 90 to the starting point in Maspalomas. Get off at the bus stop Neckermann Campo de Golf and walk the last 700 meters (if you are staying at Bungalows Cordial Green Golf). The bus is approximately 3 euros.
We came directly from Tenerife – hence the tiny flight!
What is the risk of vertigo on the Camino de Santiago Grand Canaria?
Vertigo can be an issue on some parts of this camino. If you have vertigo you might feel uncomfortable between Cruz Grande and Garañón. No rock climbing at all. The paths are good, and if you do not suffer from vertigo, you'll probably just enjoy the breathtaking views of the mountains:
Good website on Gran Canaria's camino
If you speak a little Spanish, here is a useful website on the Camino de Santiago de Gran Canaria:
Senderismo Gran Canaria
How expensive is this camino?
We ended up paying 68 euros in average per night for double rooms – a lot more than on the mainland camino. This is primarily due to the lack of pilgrims hostels along this camino and the fact that we alked during high season – Christmas. The food prices are similar to on the camino.