PACKING Torben's packling list for the camino
My packing list for the camino is not as spartan as my wife's! I like the feeling of being prepared for this and for that. Check out my "Men's Packing List" for the camino and my tips for lightweight gear
Three pairs of underwear
Two pairs of thin woolen trekking socks
Two pairs of outdoor shorts with pockets
Long trekking pants
Two outdoor shirts with short sleeves
Two outdoor shirts with long sleeves
A woolen vest
Woolen mid-layer cardigan without a hoodie
Long johns and shirt in heat tech as pajamas
A thin outdoor cap
Ultralight Turkish bath towel
Merino wool mummy liner
Trekking shoes
Trekking poles
Extra rubber tip for my poles
Camino Buff merino lightweight
Neckwarmer – camino design (tube scarf)
Rain poncho with space for the backpack
Merino liner gloves for smart phone
Toothbrush and mini toothpaste
Mini shampoo
Deodorant
Plaster (Leukoplast) for blisters
Compeed plaster for blisters
Cell phone, power bank and charger
Paper and pen for diary
Passport and credential
Health insurance papers
2 credit cards
My packing list for the camino works for temperatures ranging from 7 to 37 degrees Celsius (45-97 degrees Fahrenheit) and is suitable for the months of April, through to October in Spain.
Boxer shorts – the thin ones dry faster
I make sure to bring my thinnest shorts with me as they dry much faster – a tip you'll love on the camino. Remember to test your boxers before starting your trek– if they don't work for you while trekking – I assure you the trek's gonna be horribly long!
Thick and thin woolen socks
I walk in woolen trekking socks both winter and summer. During the winter I prefer my rather thick crew hiking socks in camino design – during summer I choose thin ankle hiking socks. Whatever socks you choose, test them thoroughly at home. It's not fun to get blisters due to wrong socks.
Outdoor shorts with good pockets
I'm satisfied with my Haglöfs trekking shorts. They have the number of pockets I need and there is space for my passport when I go out in the evening. The material dries quiet quickly, but I always bring an extra pair, so I don't need to walk in wet shorts, when I have washed them. The style I prefer is called Mid Fjell.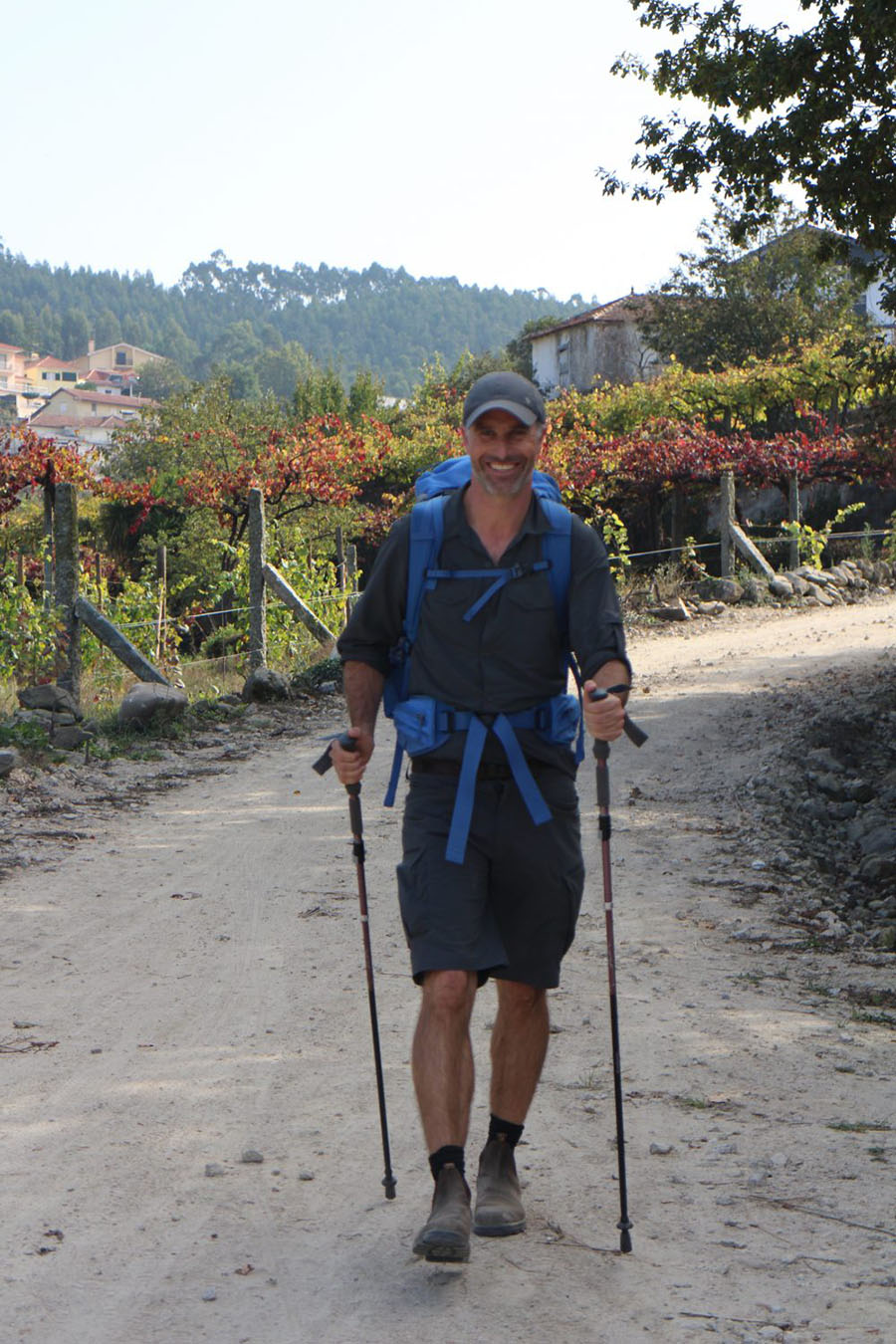 Long trekking pants
The Haglöfs Midi Flex are the best trekking pants I have ever had. The thin material with stretch gives me freedom to move and the style has plenty of pockets.
Why not zip off? The zipper often bothers me, I find it troublesome to zip legs on and off and dislike the possibility of misplacing the legs. And honestly: I don't like the look of zip offs!
Thin cap – look for one with good ventilation
A cap is never just a cap! I realized that when I got my first Columbia cap that's designed especially for outdoor sports. It has stretch, is lightweight and extremely better ventilated that my other caps. This is important when the sun bakes down on your head and you're outdoors for many hours each day. Another nice feature is that it dries in no time.
Shirts on the camino
I usually bring two short sleeved and two long sleeved shirts for the camino. They're lightweight, so I have no problems taking the luxury of carrying an extra one, so I can easily change to a clean one.
I enjoy teasing my wife by including her in my thoughts about what to wear for the evening dinner. She packs a lot more minimalistic than I do, and therefore has a maximum of 2 tops to choose between, whereas I have 4.
My outdoor shirts from Columbia have really done kept well through the years. The styles I have are out of stock now but look for the newer styles like 'silver ridge' or 'pilsner peak'. Ultra-thin, airy and quick drying material that don't need ironing. The material has stretch and allows good mobility. Air panels in the back and under the arms are good too.
Wool mid layer cardigan without hoodie
I actually bought my woolen cardigan especially for walking the camino, but in no time, it became an important part of my every day wardrobe. Wool has the supreme quality of resisting odor. This is an important feature on the camino where you are physically active most of the day. A lot of the places you sleep you do your laundry by hand. This gives wool a true advantage as it is self-cleaning to a large extent. Rinse it in water and leave it to dry, and it'll be fresh for you next morning.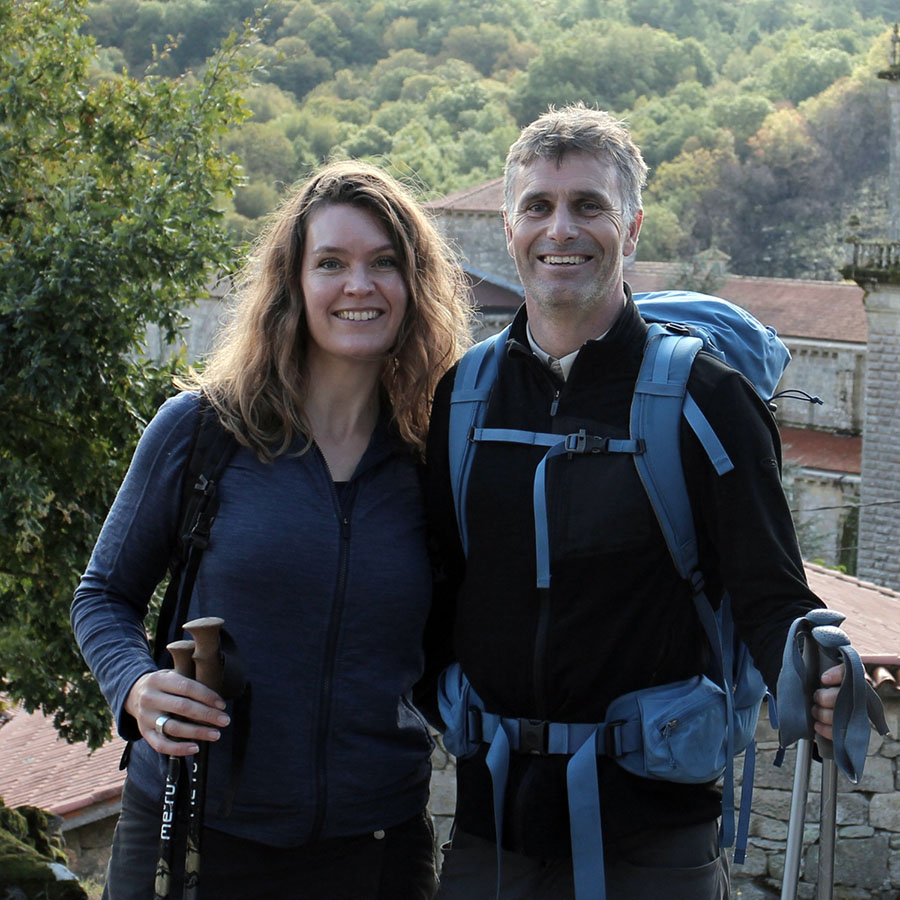 My cardigan is Icebreaker's 'Momentum LS Zip', which has 43 % merino wool.
Classic wool vest
I'm surprised to find that I am only man wearing a classic wool vest on the camino. I agree: A wool vest is not classic outdoors attire but try it! I started using my woolen vest on the golf course but in no time it became part of my camino backpack. It offers a comfortable extra layer and the sleeveless style secures proper ventilation.
T-shirts and tank top
I bring at least a couple of T-shirts and a tank top with me. My tank top is a running styled top and good for the at times very hot caminos. One T-shirt is cotton and the other one thin mesh. Still with all that, my backpack isn't heavier than my wife's cause she brings much more just in her toilet bag!
Poncho instead of rain jacket or shell jacket
I have an ultra-thin rain shell, but I don't bring it to the camino. The camino is generally not windy except from some coastal routes. A rain poncho is my first choice as it has space for my backpack. My rain poncho works for windy days as well. It is long enough to cover my legs, so I don't even bring rain pants. It has a zipper in the front – a nice feature on days with changing weather. It comes with a reflective camino shell on both the front and the back: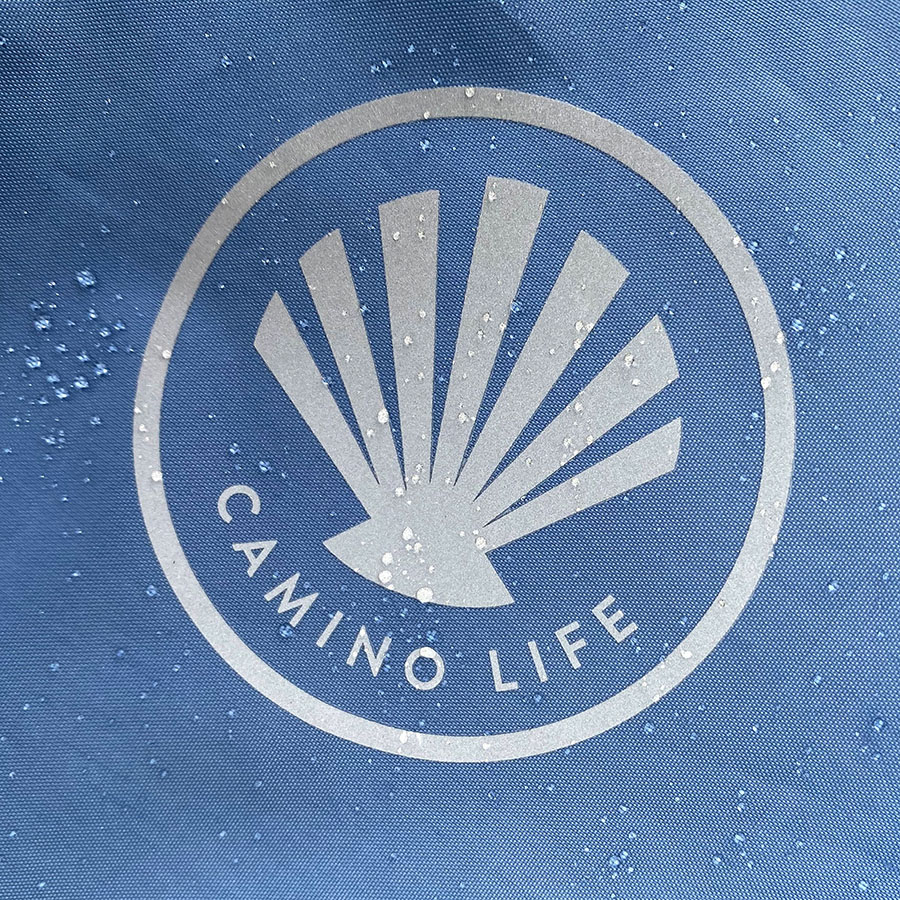 Long johns in heat tech
My longs johns and pajamas shirt are a special, Japanese material from Uniqlo called heat tech. I have very sensitive skin and haven't really felt like trying a woolen pajama as even the finest merino makes me itch.
Note the champagne: I sneaked it into my backpack and surprised my wife after a hell of a day walking 44 kms. Her smile was worth the extra weight in my backpack!
How a hammam towel outsmarted my microfiber towel
I've invested in high quality microfiber towels earlier, but now they have been replaced by a classic, Turkish hammam towel.
And yes…ok…. I know it has fringes…but… The absorbency is much better that microfiber towels, it weighs the same and dries equally fast. The cherry on top is its multi-functionality: I use it as a scarf as well and whenever I need something to sit on.
Check out more about hammam towels for the camino here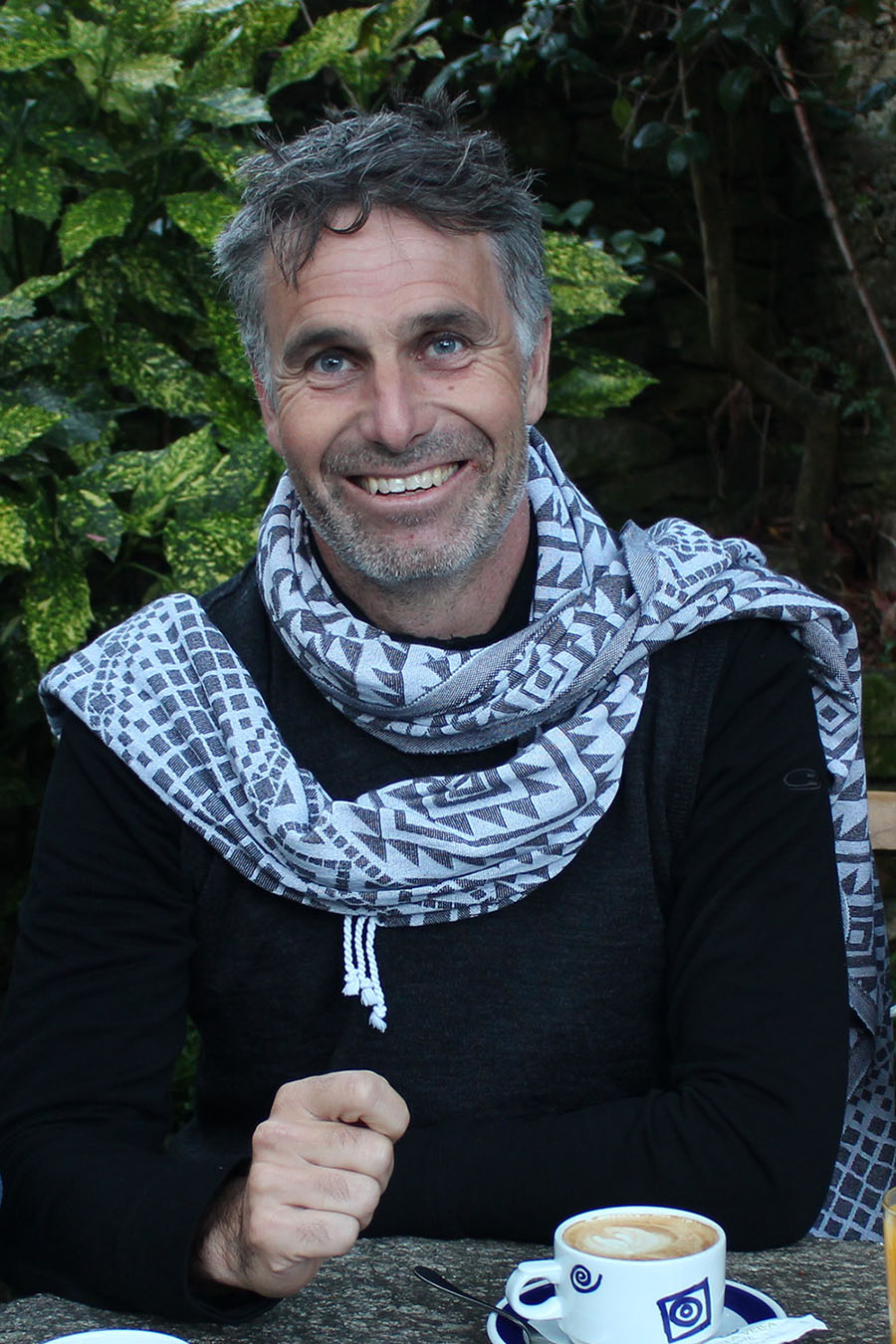 Why trekking poles are so important
There are many discussions on the use of trekking poles: They relieve your body well and bring a good rhythm into your walk. Walking with trekking poles relieves around 20 % of the pressure on your knees and hips. However, I'd say don't pick just any old trekking pole. I chose Trekmates because they are easy to adjust and fold in to almost nothing. They have handles in two heights – a nice feature when walking uphill.
Goodbye, trekking sandals
I have walked several caminos in high quality trekking sandals from Teva. Now trekking shoes have taken over because I'm tired of getting blisters. Sandals have several friction points, much more than shoes, and when I don't adjust them to perfection: Houston … we have blisters!
Nowadays I prefer Meindl Balancing – a lightweight, well ventilated trekking shoe. In the winter, I go for Blundstones.
Vital ear plugs
There has been a technical revolution in ear plugs since the yellow ones in foam. I'm very sensitive to sounds which used to cause me problems at the dormitories. But now I've found these magic ear plugs that close out every sound.
Swiss knife, wine opener and other nice to haves
Yeah, I do love my very masculine swiss knife. But I don't bring it on the camino. I prefer the simplicity of not checking in my backpack and the freedom of walking straight out of the airport once landed.
On the camino we usually eat bread with slices of ham and sausage we buy at the butcher's. And the picture you have before you of cutting slices of sausage with your Swiss knife and feeding a beautiful woman on the hillside is nothing but a mirage. Not having a wine opener, though, can be irritating – but I soon learned to always choose either champagne or wines with a cap.
We buy our gear ourselves
We do not collaborate with any sponsors and we do not receive any payment of any kind from sponsors or shops when we shop.
All the gear we mention here have been bought independently and by ourselves. We shop at shops specializing in outdoor life, and we look for the best quality at the best prices.