PACKING My best gear for the camino
Since I began trekking, I have learned more and more what works for me. See here what I bring along and why
The content has progressed and I have walked and learned, from bitter experience, what is essential for me to have with me. Today I don't reconsider changing my gear without careful consideration.

My poncho –  my cave
My rain poncho, seen in hindsight, is the ultimate and best purchase I have ever made for the camino, and it has made the greatest difference.
Before I ventured over the Cantabrian mountains on Camino Primitivo, I had worried relentlessly about the rain. The weather there is, and this is putting it mildly, unstable in the Asturias region. I had brought 4-5 different things with me to ward off the rain. And every time, I ended up soaked to the bone before I had put on half of the things!!
The poncho is brilliant as it not only covers your whole body but also your head and your backpack in a jiffy. And the cherry on top is its weight: 370 grams. My poncho is sewn to fit the backpack allowing it to stay in place if it gets windy. It has a reflective camino shell both on the front and on the back to keep me safe in traffic and comes with a full length zipper.
Get your own camino shell rain poncho in our shop 
My multi-functional towel
At first you think I am wearing a scarf on the picture above but actually it's my towel. On the camino I traded my synthetic light weight towel in with a Turkish hammam scarf (weight 356 grams). Come to think of it, I hated the sticky feeling I was left with from the synthetic micro fiber towel, and with the hammam towel is 6 things in 1 – better than a Kinder egg – I have:
a comfortable towel
a scarf
a skirt
a Bedouin style shade provider – splendid on hot sunny days
a privacy curtain for my bunk bed
something to sit on during my breaks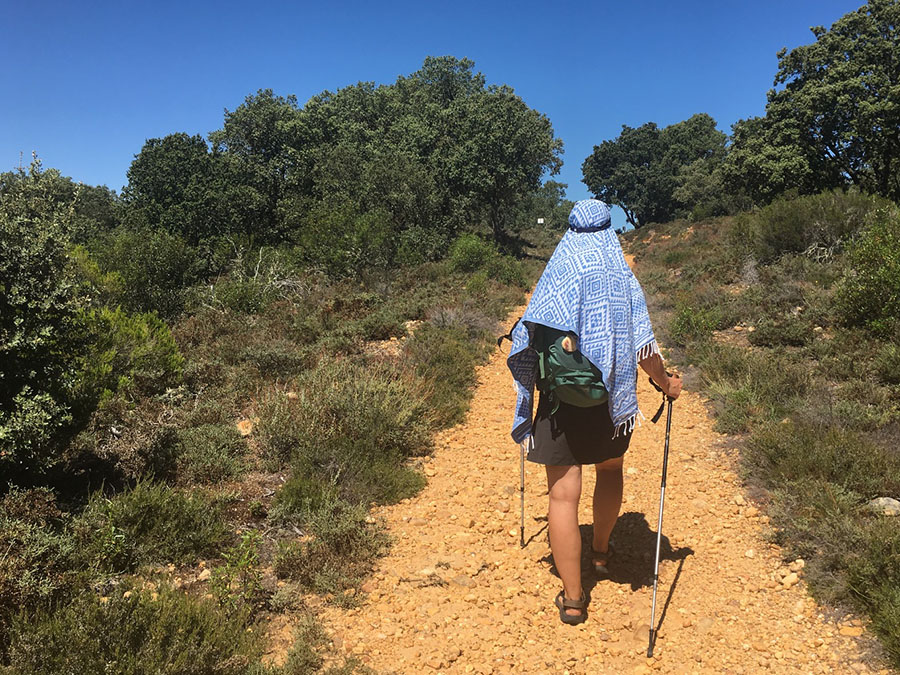 My now four years old hammam has been out of production for years, but after almost two years of searching I found the original factory in Turkey that weaves in this ridiculously good quality! I love the hammam idea so much for the camino that I ended up doing my own Camino de Santiago design inspired by the iconic scallop shells and arrows of the camino:
Get your own camino hammam in our shop right here – we ship internationally
Sky blue hammam towel for the camino
Available colours: Purple fig, grey, cactus green, denim blue, sky blue, petrol green, apple green and yellow.
Wool is cool on the camino
The best modification in my backpack happened when I tried to trek in wool. And it has surpassed everything else I have ever worn – from fleece to fitness tops.
Wool has the supreme quality of working with your body: it keeps you warm when the weather is cold – and cold when the weather is warm. I do not get cold during my breaks anymore either, nor when I am drenched from the rain or sweaty from the many uphill walks. And no – it doesn't itch. So now my bra, tank top, long sleeved cardigan, headband, socks, pajamas and sleeping bag are all woolen.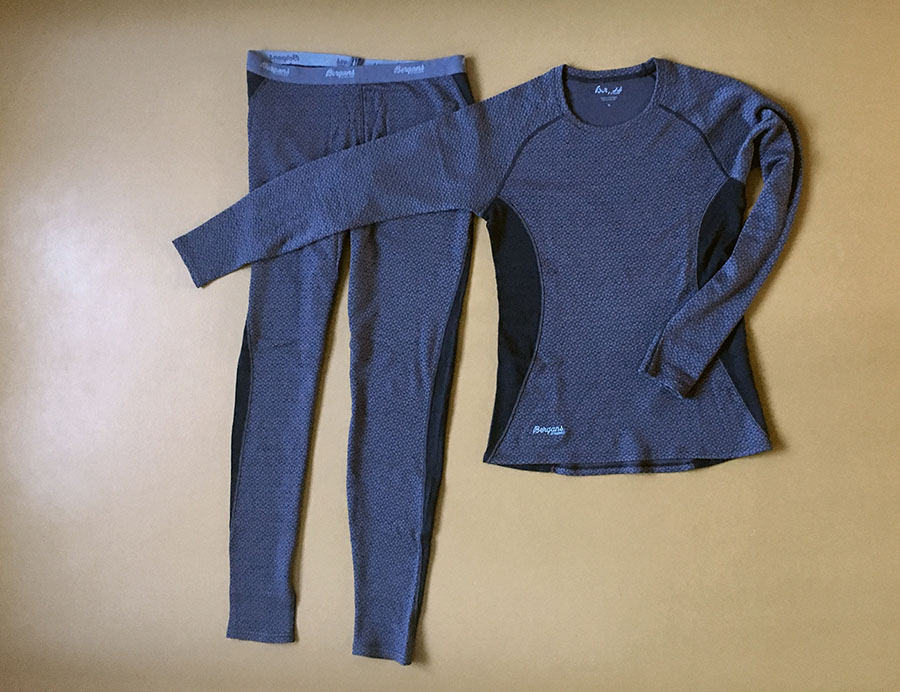 The synthetic skiing underwear I began my camino adventures with are replaced with a thick woolen mid layer from Bergans. The same woolen mid layer is my extra layer of clothing, on very cold days. The stench from fitness clothes is also gone now as another benefit. Wool is very self-cleansing as well, so you can save time, as you don't need to wash wool every day, even when you walk on the camino.
Summer wool tested on adorable babies
I have tried very expensive and fancy wool from "real brands" but my tank top is from the same affordable brand I used for my children when they were babies, Joha.  They have a wool/silk series that handles daily use really well, be it the dryer, washing machine or washes with soap other than wool friendly detergents. I call it summer wool, because it has a light and airy quality, comfortable to wear even during heatwaves and hot flashes.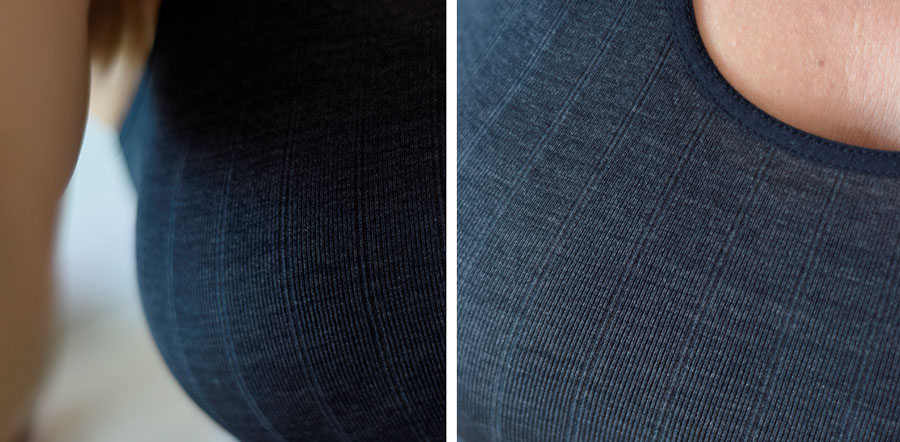 Cardigan – with zipper and without hoody
I don't bring any jacket on the camino, and never missed it. Over the tank top I have a medium thick woolen cardigan with a zipper, without a hoody. It is important for me that I can zip up quickly if I am cold and unzip just as fast when I get warm again. A regular sweater cannot be adjusted without having to remove the backpack. And because my first layer is a tank top, it is of utmost importance that the cardigan is woolen. I learnt this the hard way on my first camino, where I had chosen a fleece cardigan that stank so much on the second day, that I have no words to describe the smell…
Generally, the camino weather isn't that windy. But should I get a windy day, I wear my poncho over my cardigan or I take on my pyjama top as an extra layer.
My cardigan is Icebreaker's 'Dia LS zip' (87 % merino wool) and Torben wears Icebreaker's 'Momentum LS Zip' (43 % merino wool).

Woolen nights – in a good way
I spent my first three caminos sleeping in a silk sleeping bag with a fleece blanket. It went ok but no hurray sounded from my bed! The silk sleeping bag had no stretch, so it turned claustrophobic as I couldn't move in it, and it was so smooth that the fleece blanket kept sliding off.
That is all history now after trying a woolen mummy liner and later on doin my own camino design. The woolen mummy liner is 100 % merino wool, woven and has a lot of stretch allowing me to move comfortably. The weight is around 600 grams. I totally love it:
Find your merino wool mummy liner with camino shells right here in our shop
Ear plugs that WORK
Admitted – there are cheaper ear plugs… 13 USD is what three pairs cost. And honestly I would gladly pay double that because they actually work. They are silicone ear plugs and are used outside the ear canal, not inside.
Skirt? On a trek??
Sure. I see a skirt as the best outfit for an outdoorsy person like me. My legs have full movement and it doesn't get any easier to squat or sit down than in a skirt.
I started out with a beautiful Fjällräven Daloa skirt. But I sold it again because it didn't have stretch. The skirt I use now is the Ferrosi wrap skirt and can be found at Outdoor Research. It is nothing less than perfect for me. It is a wrap, has pockets and can be worn in two sizes, depending on how much food I have had that day. It is unfortunately not in stock any longer, but you can use the picture for inspiration (and no, it is not me that has such a pretty abdomen).
The day I can't use my wrap skirt any more, is the day I will be buying a Fjällräven Abisko. If you, like me, did not choose it because of the pictures, give it a second chance. After trying it around my hips and thighs, I concluded that the model was simply too thin for the skirt! Try it, maybe it will fit you well too. It has a lot of stretch and the shorts underneath are very comfy. My only problem with it is that its two layers may get a bit too warm and it doesn't have pockets.

Neckwarmer as a shelter for the storm… and much more
My ears are not that enthusiastic on windy days! On my first caminos I wore a headband, but now I have switched to a neckwarmer – much like classic Buff I microfiber. A neckwarmer is very versatile: I use it as a classic neckwarmer, as a headband, as a hair elastics when I have a bad hair day, as a hat, a bandana, a balaclava or even gloves on chilly mornings. I liked the whole neckwarmer idea so much I designed my own camino neckwarmer in both microfiber and merino wool:
These boots are made for walking
My footwear receives a lot of attention when I walk the camino. I wear Blundstones (in brown, model 585). They are classic Australian working boots. They take shape around my foot like a hand fits a glove. The sole is tough enough to protect my foot, and flexible enough for me to roll over my foot, as I do when I walk.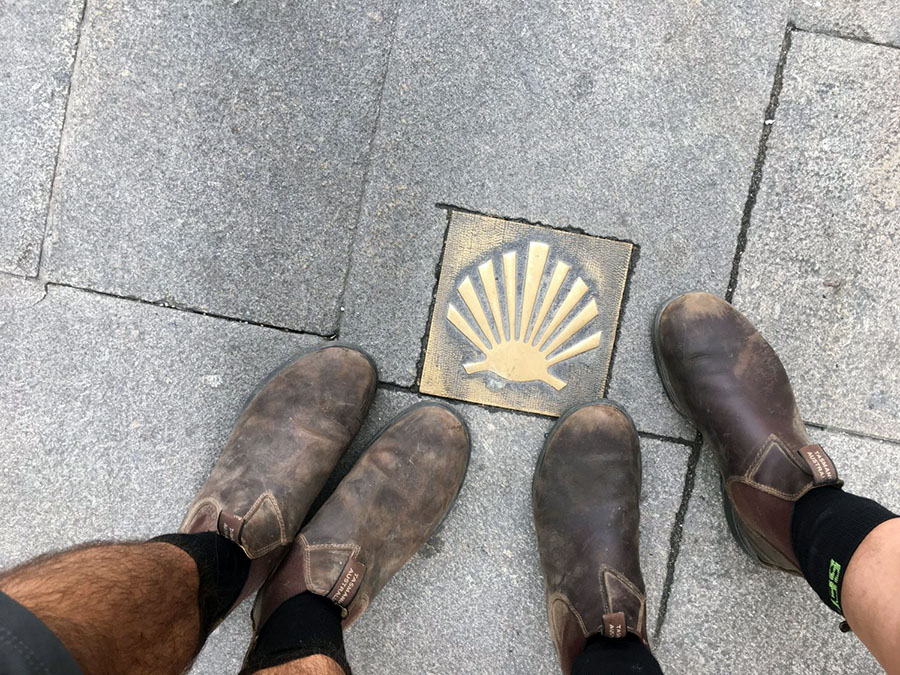 I wear them in temperatures up to 30 with no problems, and when I wax them before I travel, they are waterproofed. The boots have a flat bottom so you should add inserts. I use a medium arched sole and inserts for recessed front foot.
Foot balm – self pampering from the German medicine cabinet
A classic camino joke: "If you get sick, go find the next German!" They are without any doubt the ones with the best equipped toilet bags! So how did I find the best foot balm I ever tried? In a German pharmacy, off course. I tested four other foot balms earlier. This one is by far my favorite because it gives my feet the moisture they need in no time without getting greasy or sticky. The 100 ml size allows you to bring it, even if you fly without checking in your camino backpack. It's from Röwo and called 'hirschtalgcreme'.
Combined pillow and cloths bag
During the camino I get in tune with my body and quite quickly I realize how much the dormitory pillows remind me of hospital pillows. So I made my own pillowcase / cloths bag in the softest Liberty fabric.
During the day I pack my sleeping gear in it and this is an extra luxury for me, without having to carry an extra gram. If you want to make your own pillow case the standard camino pillow measures 100 x 42 cm!
Long pants – version 2.0
I began walking the Camino in an expensive pair of Irmingen zip-off pants from Bergans. I sold them quite quickly afterwards. The zipper around my legs bothered me during the long distances I had to walk, and the fabric didn't stretch enough and therefore did not allow me the freedom of movement I required. I have found another pair of long pants for trekking, that I will never replace because they:
have a comfortable stretch in every direction
they seem impossible to wear out
they are designed to fit a woman's curves (read: space around thighs and butt)
My hiking pants are Haglöfs Midi Flex and are available for men and women in three different leg lengths. If you have the money, I would easily wear Fjällrävens model Nikka curved, they also have room for a curvy woman figure.
Goodbye flip flops – welcome ballerinas
A pair of extra shoes is a good thing for them camino because walking boots are not allowed indoor on the albergues. I started out bringing my flip flops, but with tired feed they were to hard to walk in even for short distances. Then I changed to Crocs ballerinas.  They weigh almost noting, and I use them both in the shower and it I go out for a pilgrim's menu in the evening. These crocs are probably the closest to Jackie Kennedy you'll ever get on a camino:-0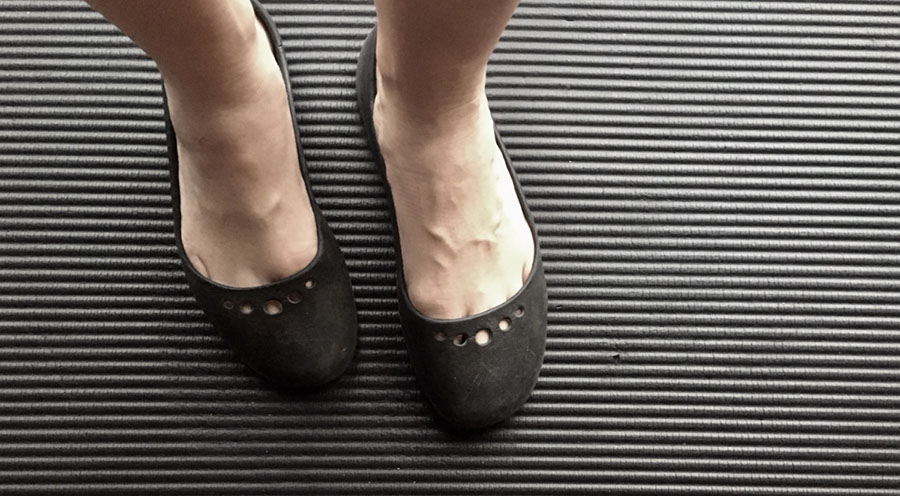 Blister tape
Compeed does not come anywhere near my backpack anymore. I have found what I feel is much better. Leukoplast. I use it preemptively and I haven't had blisters since.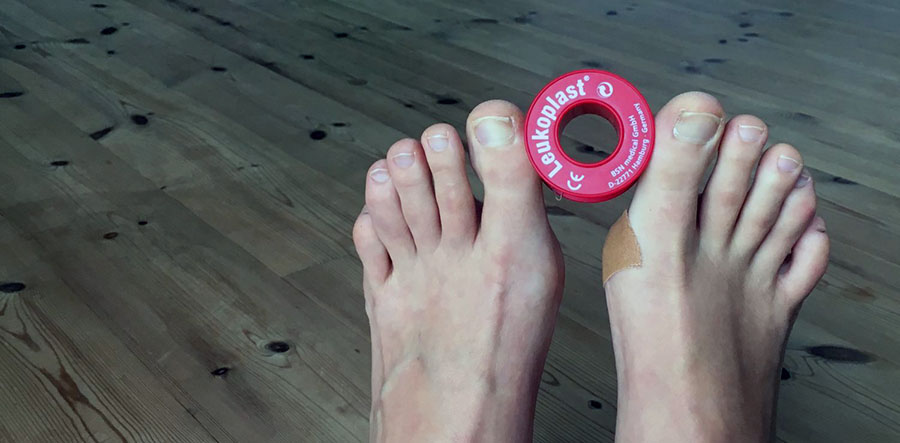 Mistakes and other silly things I carried around
It has been a long process for me to get the weight of my backpack down and to ensure I have what I need and want during my walks.
Check out my anti packing list to see all the silly things that I removed from my backpack, because I really never used them anyway.
We buy our gear ourselves
We do not collaborate with any sponsors and we do not receive any payment of any kind from sponsors or shops.
All the gear we mention here we have bought independently and ourselves. We shop at shops specializing in outdoor life, and we look for the best quality at the best prices.