* This blog post contains commercial links. Read more below
GUIDE How to get to the start of the Camino de Santiago and survive the first stage
We are walking Camino Francés in four parts. Check out our tips for transport, accommodation the first night and the challenges of the first stage
The tips in this guide are based on our experiences on the first part of Camino Francés and hours of research and recommendations from fellow pilgrims. Please share your tips in the comment area below.
Find inspiration for Camino Francés' best albergues here
A quiet morning on the Camino Francés and a couple of days from Santiago de Compostela
Getting to the starting point of Camino Francés in Saint-Jean-Pied-de-Port
If you are travelling from overseas, it's often easiest and cheapest to book a flight to Paris and from there a connecting flight to Biarritz (BIQ) in France. From there: Jump on bus no. 14 to Bayonne (price: 2 euro). From Bayonne take the little train to Saint-Jean-Pied-de-Port. It takes an hour and costs around 10 euros. You can look forward to this slow start, it is a very scenic train ride through the French part of the Basque country. For a complete travel itinerary, check out Rome2Rio.
Alternative ways to get from Biarritz airport to Saint-Jean-Pied-de-Port
You can book a transfer by Express Burricot. The price varies according to the number of passengers: From 84 euros, if you are alone, to 19 euros, if you're eight travelling together. The taxis are usually quite full, but some pilgrims find it stressful not knowing what the exact price will be for a ride.
It's easy to book a carpool with a local as well, and if you wait until 3-1 days before you leave home, there will be lots of rides to choose from on blablacar.co.uk. Prices are typically 4-6 euros.
The first night in Saint-Jean-Pied-de-Port
We booked in advance at Beilari in Saint-Jean-Pied-de-Port. We warmly recommend Beilari beacause of the spirit and the common meal. Please bring the owner Joxelu our warmest greetings…  You will get a varm and safe start at Beilari and hopefully meet your camino family. Earlier the place was called L'Ésprit du Chemin. It's located in the central street directly on the camino.
Maybe next time we will try Gite Makila (commercial link) on the other side of the street, which has a view of the mountains and looks super good as well.
Crossing the Napoleon Pass
Camino Francés starts with the legendary Napoleon Route which is 24,2 kms to Roncesvalles in Spain. It is usually possible to walk the Napoleon Route from April 1st to October 31st. There is an alternative route via Valcarlos if you want to start your camino during the winter.
It's a challenging and spectacular walk across the Pyrenees pass Collado de Lepoeder. The stage has an incredible 1.258 meters elevation followed by a 485 meters descent in its last 4 kms.


Illustration: Thanks to pilgrim.es
We were surprised to see that the major part of the Napoleon Route is on an asphalt road. But honestly, it was nice to walk safely on this route – you have more than enough work to do with the elevation profile.
We started at 8 o'clock from Saint-Jean-Pied-de-Port and reached Roncesvalles at 14.30 with three breaks along the way. Many pilgrims walk for much more hours, but I think we were simply too excited to slow down.
Pitstop in Orisson
There are three places to stay for the night along the Napoleon route: Huntto after 5 kms, Kayola after 7 kms and Orisson after 8,5 kms. We chose not to stop on the way, because we felt in shape to push on. After getting to know the route I think we will stop in Orisson next time! It is actually not about what you are able to physically, but also about enjoying.
The views are fantastic, and the walk to Orisson is doable on the arrival day, after you've had 2-4 hours to see Saint-Jean-Pied-de-Port. Orisson is good as well if you just prefer a slow start.
Book Refuge Orisson and Kayola here. They don't check their mail that often at the Refuge Orisson, especially not during the winter season, so be patient and plan ahead. They'll get back to you in due time.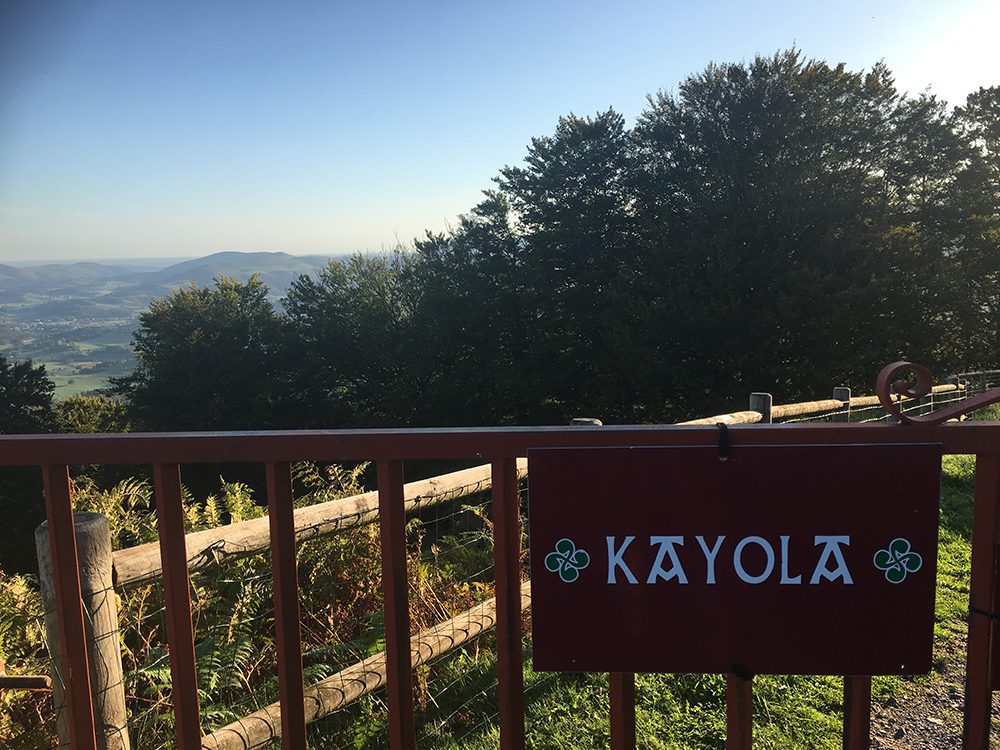 If you want to spend the night in Huntto after 5 kms, check out the hostel Ferme Ithurburia and book here (commercial link).
This is just a small bit of the Camino Francés – here Salceda
Weather – the Napoleon Pass can be closed
It makes sense for the authorities to close the Napoleon Pass for pilgrims every winter: There can be a lot of snow, the weather in the Pyrenees mountain range can often be unpredictable and has cost several pilgrims their lives over the years. We've planned our camino with this in mind, so we will cross the pass before it closes for the winter on October 31st. The pictures here are from the winter of 2013 – we have permission to share them with you from the Spanish blog Visitar Orreaga/Roncesvalles.
10th of February 2013: Sleighing on the church roof. Photographer: A. Orreaga

On the 15th of March the amount of snow was still massive back in 2013 two weeks before the opening of the pass. Photographer: A. Orreaga
Accommodation and shopping in Roncesvalles
Roncesvalles is a very popular stop on the camino, as all pilgrims tend to think they need to stop right after the Pyrenees. Maybe that's why the hotels are so expensive in Roncesvalles! But you can book a bed at the municipal albergue.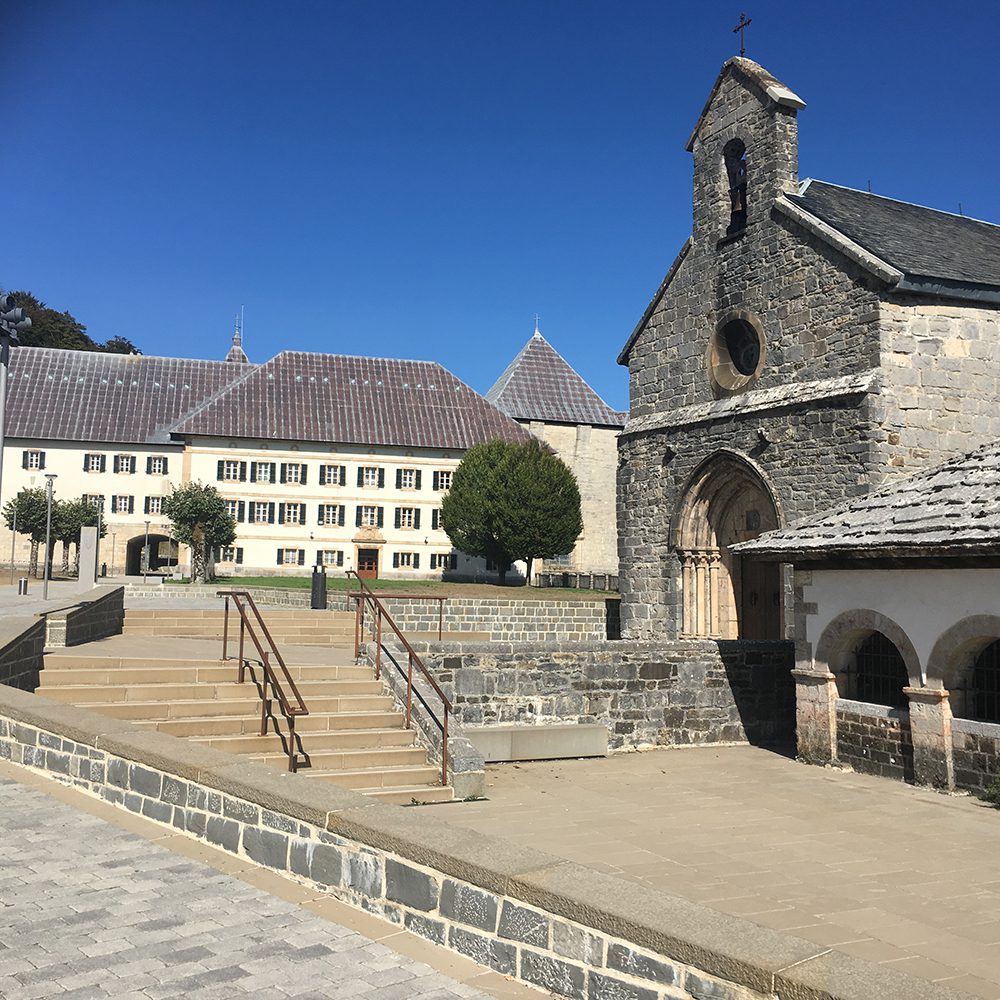 You can book dinner and lunch too. We booked both but regret: The food is served in the hotel restaurant, and they don't seem to enjoy this setup with pilgrims arriving from the municipal albergue. You'll find at least two other dining possibilities in Roncesvalles. Note: There are no supermarkets in Roncesvalles, but the next morning the distance to a bakery and a cup of coffeee is short.
We found the municiapl albergue in Roncesvalles too crowded – 60 pilgrims in one dormitory. Had we chosen to stay in Orisson the first day, we could have walked to Burguete the next day – a charming, little village a short, flat walk from Roncesvalles. With those stages you get out of sync with most of the pilgrim traffic – that gives a more peaceful camino.
Open albergues during the winter season
We are walking the Camino Francés in four parts to try and experience the different seasons of Spain. We also want to avoid the months with the most pilgrim traffic – August and September. We started in October 2019 – a season we highly recommend: We were really lucky with the weather: 22-29 degrees celsius  everyday. Chill mornings with about 12 degrees celsius. If you walk during the winter, some services and albergues will be closed.
Check out our list of winter open albergues (updated every year)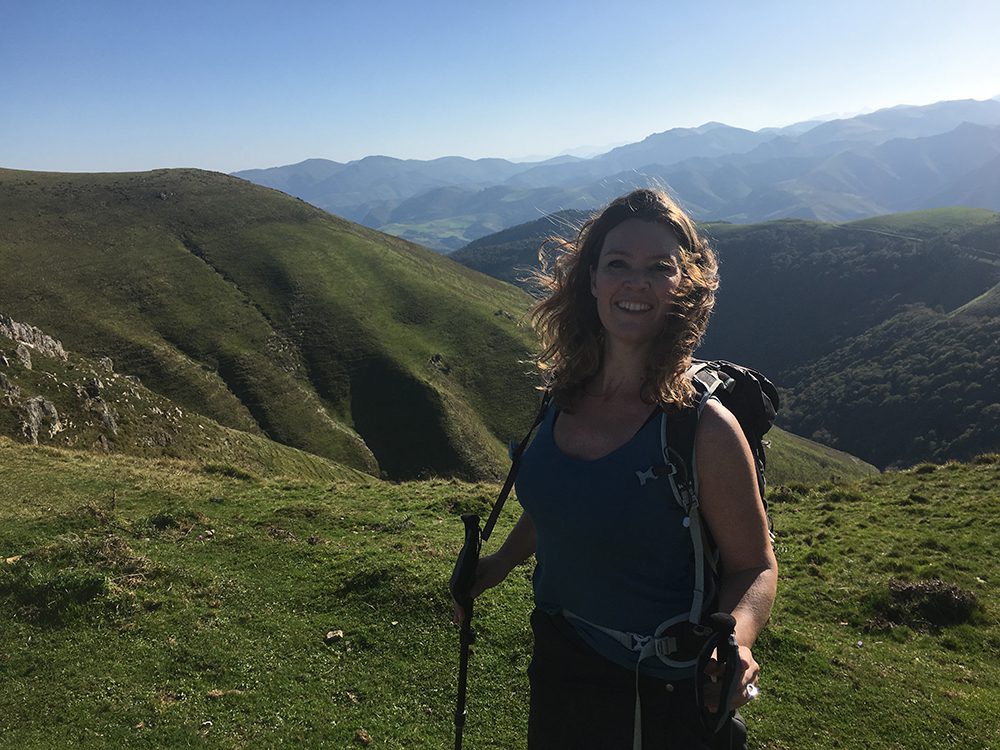 Do you need transport for your backpack?
If you have injuries, consider having some of your luggage transported over the Pyrenees. I am walking with a plantar fasciitis and chose to have four out of my six kilos transported. It is easy and cheap to arrange baggage transport – JacoTrans takes your bag for 7 euro. See more about how you arrange bagage transport on the camino
What does "commercial link" mean?
Disclosure: This blog post contains commercial links. That means that if you book accommodation via the available commercial links, a small share of the payment goes to finance Camino Life. When booking through Camino Life you support our blog, and booking.com earns less. Your price remains the same.