GUIDE The camino – much more than one route
Despite it being called The Camino, the camino is actually not one route, but many connected routes in Spain all culminating in Santiago de Compostela. There is no such thing as THE right camino. The right camino for you, is the one you walk
It took me seventeen years to embark on my first camino, because I had only heard of Camino Francés, the famous 3 to 6 weeks route from France through the Pyrenees to Santiago. I wasn´t able nor willing to spend that much time away from my young children. But then I realized that there wasn't just one but many routes to Santiago de Compostela. Have a look at this fascinating map:
Illustration: Thanks to Wise Pilgrim
An entire camino without having to quit your job
If you feel the camino calling you, then you should go! The good news is that you can walk an entire camino without quitting your job. My first camino was Camino Inglés which is 121 kms in total (split into five to seven stages). After that I walked Camino Primitivo, the oldest camino route in Spain, which is 319 kms (split into 11 to 16 stages) . Here are some other ideas for shorter caminos that can be walked during a regular vacation:
Camino Finisterre (206 kms – 7 stages): Starts in Santiago running toward the coast at Finisterre (90 kms), then on to Muxia also by the coast (30 kms) and back to Santiago (86 kms) in a form of a triangle. You can walk it both ways.
Camino de Invierno (268 kms, 8 to 10 stages)
Camino Sanabrés (368 kms, 13 to 17 stages)
Walking parts of a longer camino
If you're not able to take five weeks off, a good alternative could be to walk the longer caminos over several vacations. Many pilgrims choose to walk Camino Portuguese starting in Porto (240 kms), even though the route actually starts all the way back in Lisbon (650 kms).
Quite a few (and even too many) pilgrims choose to start Camino Francés in Sarria 115 kms from Santiago. Sarria is the last possible starting point on Camino Francés, if you want to receive the 'compostela' as proof of your pilgrimage. This specific part of the route has become so crowded during the summer that pilgrims rush up at 4:30 PM to race for beds in the next village.
As a beautiful and uncrowded alternative for the last 100 kms, I recommend Camino Sanabrés (Via de la Plata) from Ourense to Santiago.
Finding peace on the Camino
The camino has become extremely popular. Actually, there has been an 11.000 % increase in the number of pilgrims during the last 30 years: In 1986, 2.491 pilgrims arrived in Santiago compared to 277.915 pilgrims in 2016. And the increase continues: In 2019 347.578 pilgrims arrived. The busiest part of the camino is by far the last 100 km from Sarria to Santiago. If you're looking for a peaceful camino, pay specific attention to the route and the season.
Pilgrim backpacks queuing up for a bed at the public albergue in Pontevedra, Camino Portuguese, August 2018. Photo: Thanks to Anne Christoffersen
The Portuguese Route is rapidly growing in popularity – both the central route and the coastal route. August is the month with the largest numbers of pilgrims arriving in Santiago de Compostela.
Choose the more quiet months
This graph shows the number of pilgrims arriving in Santiago each month:
How to find the less travelled routes
There are about 12 times as many pilgrims on Camino Francés compared to Camino Primitivo. Here's an overview of the percentages of all pilgrims following each of the Camino routes in 2019: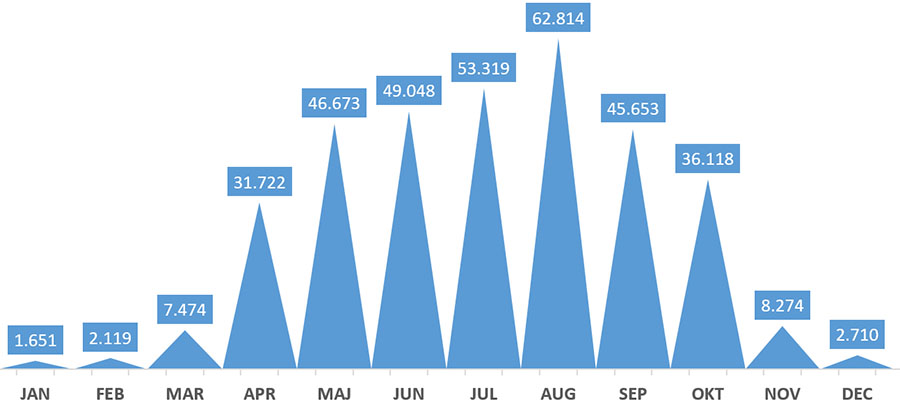 Camino Francés 54,65 %
(den franske rute)
Camino Portugues 20,82 %
(The Portuguese Way)
Camino Portuguese Costa 6,41 %
(The Coastal Route)
Camino del Norte 5,47 %
(The Northern Route)
Camino Primitivo 4,59 %
(The Original Way)
Camino Inglés 4,54 %
(The English Way)
Via de la Plata 2,65 %
(The Silver Route – including Camino Sanabrés)
Finisterre -Muxia 0,45 %
(The End of the World)
Camino Invierno 0,30 %
(The Winter Way)