Photo: Thanks to Niels Henrik Kristensen
STAGES Albergues and peaceful places on Camino Francés – off the beaten track
We are walking Camino Francés in four parts. Check our our tips for the first part and follow our preparations to continue or pilgrimage
* This blog post contains commercial links. Read more below
We are walking Camino Francés embracing the constraint we have regarding to our family life with six kids and my plantar fasciitis that even now after a year is a physical limit. We are walking Camino Francés into these four parts: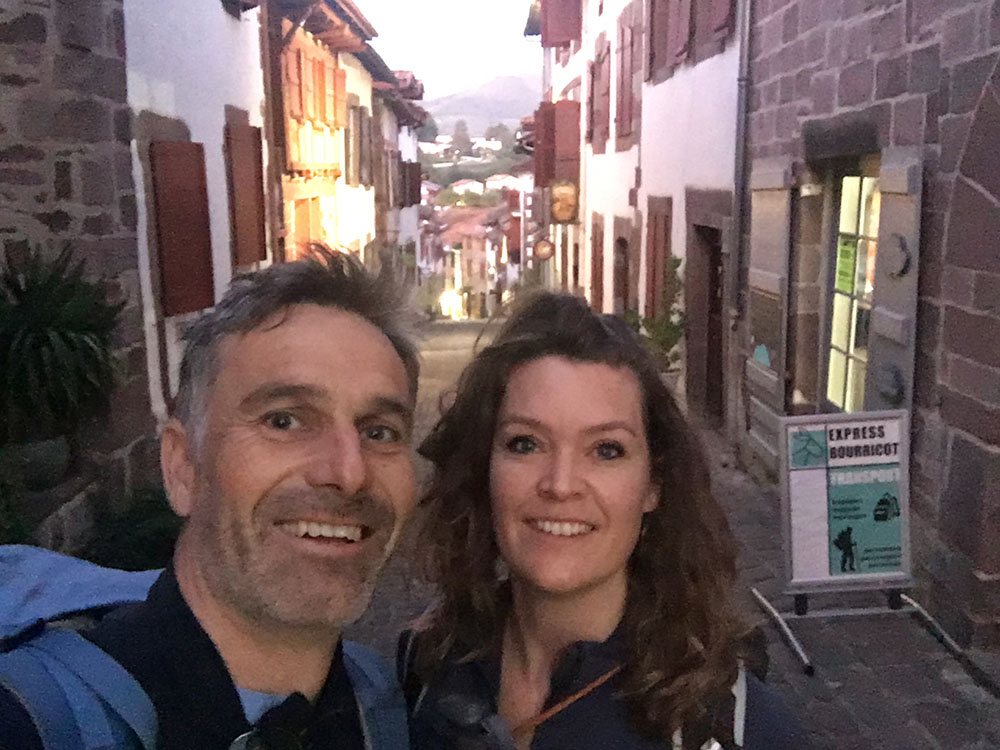 The French route starts in the small, beautiful town of  by Saint-Jean-Pied-de-Port in the French part of the Basque country
PART 1 – From Saint-Jean-Pied-de-Port to Burgos (288 kms)
We have made two suggestions for stages on the first part choosing the most magic albergues and the most peaceful spots. Both stage suggestions are off the beaten track and as different from the classic guide book stages as possible in order to escape some of the pilgrim traffic without missing out on the community. Check out our tips for Saint-Jean-Pied-de-Port, the first night and the Napoleon route
Stages – suggestion A:
1. Saint-Jean-Pied-de-Port – Orisson 8.5 kms. If you have an early arrival to Saint-Jean-Pied-de-Port, we recommend you spend 2-4 hours exploring the town and walk the first, extremely steep and beautiful part of The Napoleon Route to stay in Refuge Orisson where you can enjoy the views fully. Albergue Orisson can be booked here.
2. Orisson – Burguete 17.1 kms. Charming little town we would have preferredto stay in in stead of stopping with the crowds at Roncesvalles. We met a pilgrim that had stayed at the camping site right after Burguete and was quite satisfied with the peace and calm. If you stay at the camping site, you can shorten tomorrow's long walk a bit.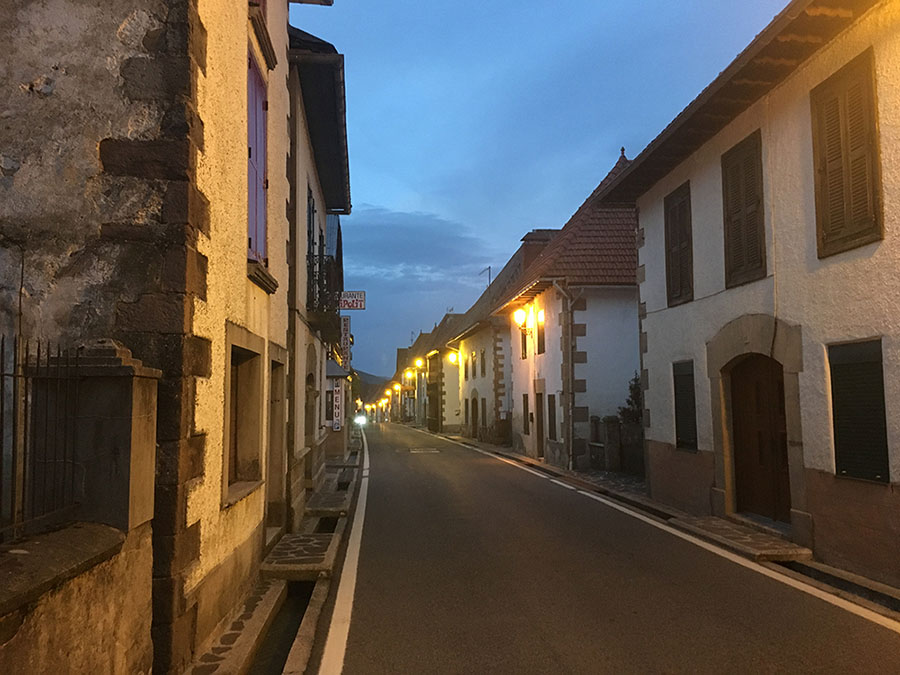 3. Burguete – Zabaldika 31.5 kms. An interesting, peaceful and spiritual place run by volunteer nuns. Common meal, sharing and pilgrim blessing. Not bookable – 18 beds.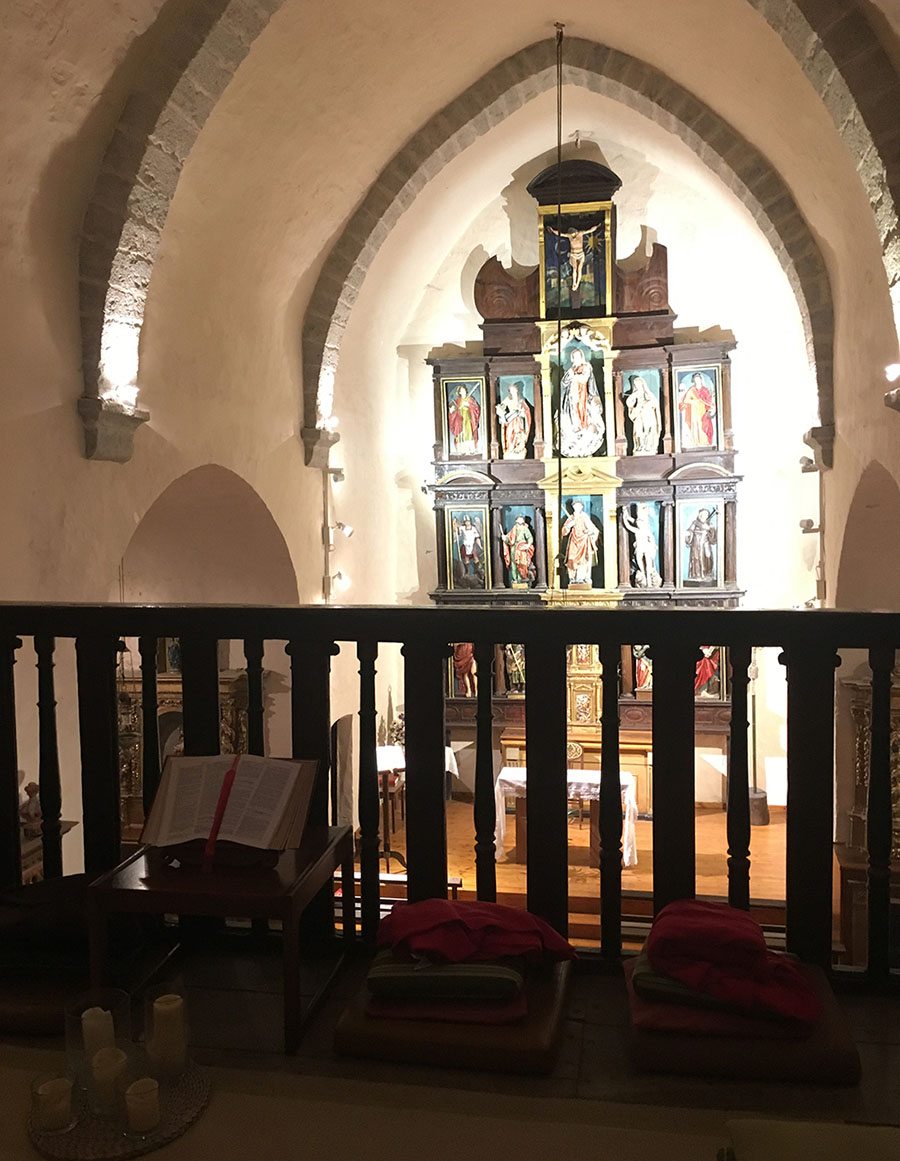 4. Zabaldika – Uterga 25.1 kms. In Uterga two albergues are figting about the pilgrim customers. We tried the most expensive one on the left hand. Good, really fresh food and a very helpful hospitalera. The pilgrims staying at the other side of the street were very satisfied with the helpful hospitalero at Casa Baztan as well (commercial link). Two fine possibilities.
5. Uterga – Villatuerta 25 kms. La Casa Magica – fantastic, warm hosts and a historic town house that is really worth seing (commercial link). Stop and experience the atmosphere of this place, even if you cannot stay for the night – you are welcome.
6. Villatuerta – Los Arcos 27.3 kms. Casa de la Abuela can be booked at +34 948640250 or reservas@casadelaabuela.com
7. Los Arcos – Viana 20.1 kms. In Viana we stayed at a clean and peaceful private room at Pensión San Pedro in the historic centre.
8. Viana – Ventosa 29 kms. Remember to take your time for a tapas lunch today at Bar Deportivo in Navarrete. A must go! The best tapas we've had on the entire camino. Albergue San Saturnino is super good karma and has a few but really good and useful ingredients if you feel like cooking today. The dining room is cozy. There is a private room you can book.

9. Ventosa – Cirueña 25 kms
10. Cirueña – Viloria de Rioja 20.2 kms. Very special spiritual place: Albergue Acacio y Orietta. Run by two pilgrims.
11. Viloria de Rioja – Villafranca Montes de Oca 20 kms
12. Villafranca Montes de Oca – Cardeñuela Ríopico (reccomendation: Albergue Vía Minera) 24 kms
13. Cardeñuela Ríopico – Tardajos 25.4 kms (Burgos is after 14.2 kms)
Stages – suggestion B:
1. Saint-Jean-Pied-de-Port – Roncesvalles 24.2 kms. The municipal albergue at the Roncesvalles monastery can be booked here.
Huge dormitories at the monastery in Roncesvalles – 64 on each floor
2. Roncesvalles – Zubiri 20.8 kms. Recommendation: The food at Albergue Suseia is wonderful – book albergue Suseia here (commercial link)
3. Zubiri – Cizur Menor 24.8 kms. You will pass through the large bull fighting city of Pamplona today. The albergue in Cizur Menor is run by the Malthese order.
4. Cizur Menor – Cirauqui 28.4 kms (right after Puente la Reina). Recommendation: Albergue Maralotx – book at +34 678 635 208.
5. Cirauqui – Azqueta (21.4 kms) or Villamayor de Monjardín (23,3 kms). You will pass through Estella today where there is a Decathlon if you need any gear. Warm recommendation to albergue La Perla Negra in Azqueta! In Villamayor de Monjardín there is a luxury casa rural, Casa Monte Deio, which offers pilgrim room for 45 euros.
6. Azqueta (20.9 kms) or Villamayor de Monjardín (19 kms) – Sansol. Albergue da Oliva looked really nice and has a foot bath with a view of the landscape.
7. Sansol – Logroño 20.8 kms. We had heard that Logroño is really not charming. And true: You don't find many historic building here as the city has been destroyed in several wars during the years. But actually Logroño has some lively tapas streets and a food market in the historic centre a short distance off camino. Head for Calle Larel. If you arrive early in Logroño, consider an architectural trip to Calatravas wineyard Bodegas Ysios 20 minutes drive or fifteen minutes by bus plus 20 minutes walking.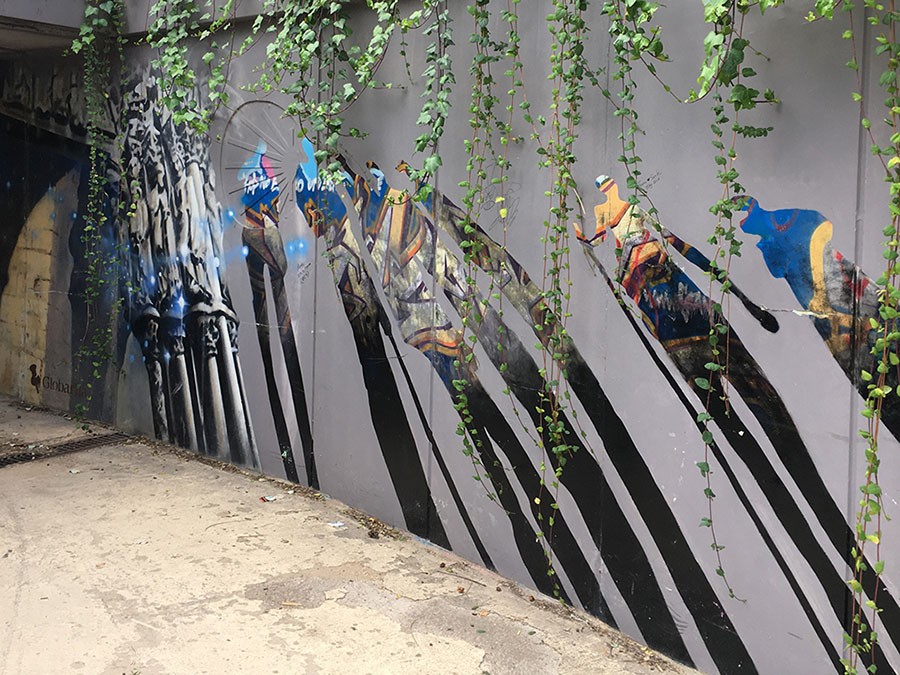 Camino art on the way into Logroño.
8. Logroño – Nájera 28.7 kms. Remember to stop for tapas lunch in Navarrete at Bar Deportivo! Absolute must. When you are at the tourist café by the church, walk backwards over the small plaza and take the stairs down – a well hidden perfect spot:
Fantastic pintxos at Bar Deportivo (sorry, handsome man not included…)
9. Nájera – Grañon 27.7 kms. Primitive, unforgettable stay in the church of Grañón (Hospital de Peregrinos San Juan Bautista). In the same city there is also Casa de las Sonrisas, which a fellow pilgrim recommended us for the atmosphere. Not very organised, though… On the way go see the church with chicken inside in Santo Domingo de la Calzada.
10. Grañón – Belorado 17.6 kms. Albergue Cuatro Cantones has a garden and a swimmingpool – book it here.
11. Belorado – San Juan de Ortega 25.9 kms.
12. San Juan de Ortega – Burgos 28 kms. Burgos is a large and interesting city. The cathedral is worth visiting. The municipal albergue in Burgos is very good, but watch out for thieves. If you are not into albergues, there are plenty other accomodation possibilities in Burgos (commercial link).

PART 2: From Burgos to León (184 kms)
Here are the recommendations we have collected for this stretch. All are places we have been recommended more than once.
Hornillos del Camino: Hostel De Sol a Sol  can be booked here (commercial link) 469 kms from SdC
Between Hornillos del Camino and Hontanas – a short distance off camino: Albergue Arroyo de San Bol: A quiet place in the wheat fields – and something about a footbath! Bookable at +34 606 893 407 or lilianaborroto@yahoo.es. 463 kms from SdC
Castrojeriz: Hospital de peregrinos del Convento de San Antón. No electricity, but a very interesting place . Situated after Hontanas and 3,6 kms before Castrojeriz. 444.4 kms from SdC
Itero del Castillo: Ermita de San Nicolás de Puente Fitero is an oasis on the meseta (12 beds). Unique albergue run by an Italian brotherhood, which will introduce you to the Italian way of cooking. Pilgrims sleep and eat in a small ermita (church). 441 kms from SdC
Villarmentero de Campos: The hippie albergue Amanecer is bookable at +34 662 279 102 or albergueamanecer@gmail.com. 416 kms from SdC
Carrión de los Condes: Albergue de Peregrinos Parroquia de Santa Maria – sweet, singing nuns! In this city there is also a hotel in the old monastery Monasterio San Zoilo. You will be treated as a king here. If you don't stay at the monastery, go see it anyway. 406 kms from SdC
Bercianos del Real Camino: Albergue Parroquial Casa Rectoral – there used to be a very interesting American couple running this place – Linda Heiderer og Daniel De Kay. A special place. 357 kms from SdC
PART 3: León to Sarria (202 kms)
Here are the recommendations we have collected for this stretch. All are places we have been recommended more than once.
León: We will continue to Olcina de la Valdoncina to experience El Pajar, which is off the beaten track. We have been told about a woman here with a beautiful soul. All the pilgrims who only had a coffee here regret not having stayed for the night. Book El Pajar here (commercial link). Choose the 'scenic route' from León to pass by this place. 297 kms from SdC
Hospital de Orbigo: Albergue Verde is really good and can be booked at +34 689 927 926 or oasis@albergueverde.es. 282 kms from SdC
Castrillo de Los Polvazares is a tiny village worth seeing. I is a 700 meter detour off camino down a narrow trail. Most pilgrims dont realise there is a beautiful experience right around the corner. The village is made from pure stone and cars are not allowed. Approximately 251 kms from SdC
Santa Catalina de Somoza. Another very picturesque village I will surely take my time to see and photograph. 248 kms from SdC
Rabanal del Camino: The donativo albergue Refugio Gaucelmo is a magic experience. Albergue del Pilar is very good too – can be booked at +34 616 089 942 or rabanalelpilar@hotmail.com. 244 kms from SdC
Manjarín: Go visit Tomás – the last templar. Maybe even the smallest place in the entire camino! Tomás cooks and you can stay at his very simple Refugio de Manjarín Albergue Templario de Tomás. 234 kms from SdC
Pieros (2 kms after Cacabelos): Albergue El Serbal y la Luna. Part of a community of green yoga like albergues. Bookable at +34 639 888 924 or
alberguedepieros@gmail.com. 193 kms from SdC
La Faba (on the way to O Cebreiro): CaminArte Bar Albergue El Refugio. Just nine beds. It's vegetarian zen! 163 kms from SdC
Trabadelo (before O Cebreiro): Albergue Casa Susi is bookable at +34 675 242 114 or casa.susi@hotmail.com. 177 kms from SdC
Vega de Villacarce: The small hostel Pensión Fernández can be booked here (commercial link) or Albergue Casa del Pescador bookable here (commercial link) 170 kms from SdC
A Balsa 1,5 kms after Triacastela on the way to San Xil: Ecológico El Beso, A Balsa. Ecological easy to miss place if you don't know it is there. Book at +34 633 550 558 or albergue@elbeso.org. 129 kms from SdC
PART 4: Sarria to Santiago de Compostela (118 kms)
This is by far the most trafficked part of the camino. Because of this, we are planning to walk this part during winter. But I try not to be too hysteric about 'The Sarrian Hords': Walking the last three days of Camino Francés in June, 2017, it was actually peaceful in the afternoon – one closed bar after the other: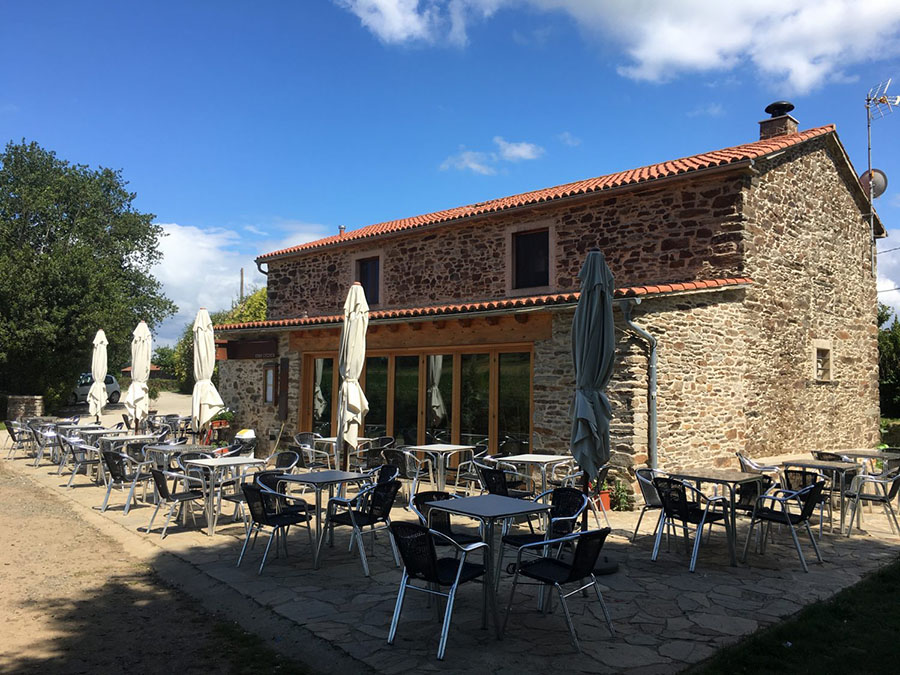 Sarria: Albergue Matias Locanda has a good restaurant and albergue. You can book Matias Locanda here (commercial link). 120 kms from SdC
Ligonde: In this tiny hamlet there is a lovely donativo albergue with just nine beds, Albergue Fuente del Peregrino. Common meal. 75.9 kms from Santiago
Melide: Squids are a must in this city. Use the comment function if you can recommend us a squid restaurant in Melide. 56 kms from SdC
Arzúa: Albergue Milpés with foot bath and a view (commercial link). Place to dine: O Furancho de Santiso – fantastic restaurant. 42 kms from SdC
Salceda: Albergue Turistico (commercial link) is not very used by pilgrims, but a nice place. 31 kms from SdC
Monte de Gozo: The public municipal albergue has the atmosphere and looks of a concentration camp. The trick is finding the well hidden Polish albergue 'Centro Europeo de Peregegrinatión Juan Pablo II'! It is sparsely signposted, but believe me, it's there. 5 kms from SdC
If we continue to The End of the World at Finisterre, we will surely spoil ourselves with a night in the lighthouse at Hotel O Semaforo (commercial link).
And some extra photos… To the left: How quite peaceful the camino actually was in the afternoon in June. To the right: An example of a sign witnessing the large amounts of pilgrims passing by during the busy season…
What does "commercial link" mean?
Disclosure: This blog post contains commercial links. That means that if you book accommodation via the available commercial links, a small share of the payment goes to finance Camino Life. When booking through Camino Life you support our blog, and booking.com earns less. Your price remains the same.